Registro
From Online Manual
---
Cuando un usuario monta un foro SMF o desea unirse a otro foro, debe registrar una cuenta. Esto le permitirá mantener su identidad mientras publica y hacer un seguimiento de lo que ha leído, sin importar la computadora que esté usando. El usuario podrá llenar un perfil personal y usar el sistema empotrado de mensajería privada. También podrá suscribirse a las notificaciones por e-mail, monitorear su actividad en el foro y más.
Cuándo y Cómo registrarse
Algunos foros pueden restringir el acceso completo al mismo o a ciertas áreas, permitiendo que solo usuarios registrados vean el contenido. Un visitante debería registrarse cuando desee participar en las discusiones del foro, cuando visite el foro frecuentemente, para obtener acceso a las áreas restringidas y para disfrutar de los beneficios para los usuarios registrados.
Un invitado es cualquier persona o "spider" (buscador) que no haya iniciado sesión en el foro. Una vez que una persona se registra se convierte en miembro, sin embargo, seguirá mostrándose como invitado hasta que inicie sesión.
Members may have access to profile and notification options that are unavailable to guests, although these options may vary, depending on the permissions which have been set by the forum administrator. Members can also be placed in membergroups, made moderators or administrators, given special permissions and access to members-only areas. Being able to send personal messages, receive forum emails, and post new polls and topics are some additional benefits that may be available to members of the forum.
Un usuario puede registrarse en cualquier momento seleccionando simplemente la opción Registrarse del menú principal.
La pantalla de registro
La mayoría de los foros necesitan que el invitado acepte el Acuerdo de registro antes del inicio del proceso de registro. Marcando la opción "Acepto los términos del acuerdo", un invitado se compromete a cumplir con el acuerdo a lo largo de su membresía. Algunos foros pueden incorporar también una edad mínima para el proceso de acuerdo.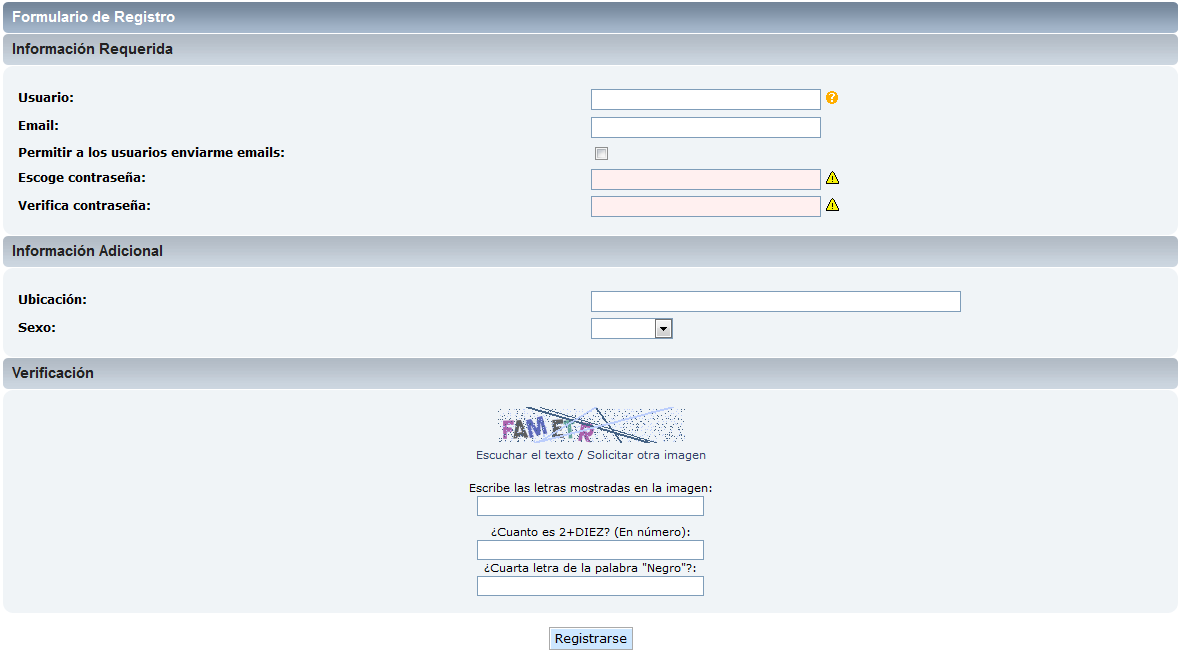 En la pantalla de registro, se le pide al invitado que ingrese un nombre de usuario y una dirección válida de e-mail. Si no se utiliza una dirección válida de correco electrónico se puede entorpecer el registro, dependiendo de cómo esté configurado el foro.
The option to choose an authentication method is only shown if OpenID is allowed by the administrator as a registration option. If OpenID is not allowed, then a password must be entered.
Un formulario de identificación visual puede estar presente para confirmar que el invitado es una persona y no un bot. Esta verificación puede presentarse de dos maneras - CAPTCHA y preguntas personalizadas. El método de CAPTCHA muestra una imagen que contiene una colección aleatoria de letras, las cuales deben ser introducidas por el invitado en un campo de texto. Las preguntas personalizadas muestran una o más preguntas relativamente simples, las cuales deben ser respondidas correctamente por un invitado. Un foro puede ser configurado para usar ambos métodos al mismo tiempo.
Una vez que un invitado completa el formulario de registro, hay tres posibilidades para las cuales se despliega lo siguiente, basado en cómo está configurado el foro.
Login - If registration is immediate, the new member will be automatically logged in after completing the registration form.
Activation - If a message about email activation is displayed, the new account must first be activated before login. An email with instructions how to proceed is sent to the new member's email address.
Approval - If a message about member approval is displayed, the new account must first be approved by an administrator before login. An email acknowledging the new member is sent to their email address. Another email may be sent later to inform them whether or not their application has been approved.
Activar una cuenta nueva
If a forum is configured to require email activation before login, an email will be sent to the email address provided at registration. The username and activation link are displayed in this e-mail. Selecting the activation link activates the member's account and prompts them to login. If a problem occurs with the activation link, the email also provides an activation code that can be used to complete the process. Note that a link to reset the password may be included in this e-mail, depending on the activation method enabled on the forum.
Si un miembro intenta iniciar sesión antes de completar el proceso de activación, un error será mostrado señalando que su dirección de e-mail necesita ser validada. Un enlace ¿Necesita otro mail de activación? será mostrado también en caso de que el mail se haya perdido de alguna manera.