Registering/no
From Online Manual
Når en bruker setter opp et SMF forum, eller ønsker å bli bruker av et annen SMF forum, bør de registrere en konto. Dette vil sette dem i stand til å opprettholde en konsekvent identitet når det legges inn nye innlegg og holde styr på hva de har lest, uansett hvor de jobber fra eller hvilken maskin de bruker. De vil være i stand til å fylle ut en personlig profil og bruke det innebygde systemet for personlige meldinger. De vil også kunne abonnere på e-postmeldinger, følge med på sin forumaktivitet med mer.
Når og hvordan registrere seg
Enkelte fora kan velge å begrense tilgangen til hele forum eller utvalgte områder, slik at kun registrerte medlemmer kan se innholdet. Gjester bør registrere seg når de ønsker å delta i forumets diskusjoner, besøker et forum ofte, og for å få tilgang til områder kun for medlemmer med fordeler.
En gjest er en person eller robot som ikke er logget inn i forumet. Når en person registreres blir de medlem, men de vil fortsatt være en gjest inntil de har logget inn.
Members may have access to profile and notification options that are unavailable to guests, although these options may vary, depending on the permissions which have been set by the forum administrator. Members can also be placed in membergroups, made moderators or administrators, given special permissions and access to members-only areas. Being able to send personal messages, receive forum emails, and post new polls and topics are some additional benefits that may be available to members of the forum.
En gjest kan registrere seg når som helst ved ganske enkelt å velge Registrer på hovedmenyen.
Skjermbilde for registrering
De fleste fora krever at en gjest aksepterer deres registreringsavtale før registreringen kan begynne. Når en gjest klikker på knappen "Jeg godtar betingelsene i avtalen" samtykker gjesten i samsvar med avtalen gjennom hele varigheten av medlemskapet. Noen fora kan også omfatte en minstealder i avtaleprosessen.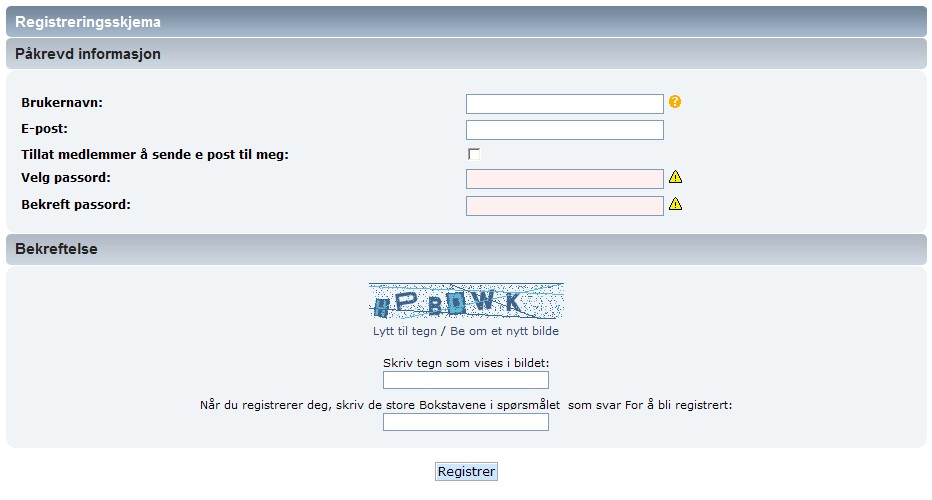 I registreringsskjemaet blir gjesten bedt om å oppgi brukernavn og en gyldig e-postadresse. Ved å bruke en e-postadresse som ikke er gyldig, kan dette hindre registreringen, avhengig av hvordan forumet er konfigurert.
The option to choose an authentication method is only shown if OpenID is allowed by the administrator as a registration option. If OpenID is not allowed, then a password must be entered.
Det kan også angis en form for visuell kontroll, for å bekrefte at en gjest faktisk er en person og ikke en robot. Denne bekreftelsen kan utføres på to måter - CAPTCHA og ved spørsmål. CAPTCHA-metoden viser et bilde som inneholder en tilfeldig samling av bokstaver, som gjesten må skriv inn i et tekstfelt. Spørsmålsmetoden viser ett eller flere relativt enkle spørsmål, som en gjest må svare riktig på. Et forum kan være konfigurert til å bruke begge metodene samtidig.
Når en gjest fullfører registreringsskjemaet, er det tre muligheter for hva som vises, basert på hvordan forumet er konfigurert.
Login - If registration is immediate, the new member will be automatically logged in after completing the registration form.
Activation - If a message about email activation is displayed, the new account must first be activated before login. An email with instructions how to proceed is sent to the new member's email address.
Approval - If a message about member approval is displayed, the new account must first be approved by an administrator before login. An email acknowledging the new member is sent to their email address. Another email may be sent later to inform them whether or not their application has been approved.
Aktivere en ny konto
If a forum is configured to require email activation before login, an email will be sent to the email address provided at registration. The username and activation link are displayed in this e-mail. Selecting the activation link activates the member's account and prompts them to login. If a problem occurs with the activation link, the email also provides an activation code that can be used to complete the process. Note that a link to reset the password may be included in this e-mail, depending on the activation method enabled on the forum.
Dersom et medlem forsøker å logge inn før aktiveringen er fullført, vil en feilmelding bli vist og bemerke at e-postadressen må valideres. En lenke med Trenger annen aktiveringse-post? vises også i tilfelle e-posten på en eller annen måte har gått tapt.