Logging In/no
From Online Manual

Du må logge inn etter registreringen og etter å ha blitt logget ut fra et tidligere besøk. Du kan velge å bruke det normale innloggingsskjermbilde eller alternativet for rask innlogging.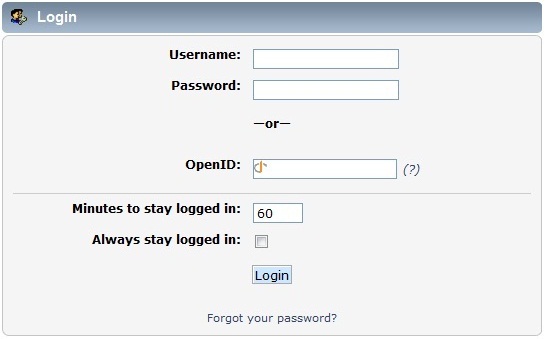 Skjermbilde for innlogging
Dette er skjermbildet du ser når du bruker alternativet "Logg inn" på hovedmenyen. Det er også dette du ser ved innlogging på forum "kun for medlemmer".
Username - The member's username.
Password - The member's password.
OpenID - The member's OpenID. This is only displayed if it has been enabled by the forum administrator.
Minutes to stay logged in - The number of minutes the browser cookie will last before expiring.
Always stay logged in - Prevents the browser cookie from expiring.
When using a shared computer, a member probably should not stay logged in for a long time or check the "Always stay logged in" option, unless they remember to log out when finished. Leaving an account logged in on a shared computer makes it vulnerable to use by someone other than the member.

Hurtiginnlogging
Et SMF forum kan konfigureres til å tillate innlogging fra alle sider. Dette kalles hurtiginnlogging. I standardtemaet vises innloggingen i det øverste venstre hjørne på hver side. Andre temaer kan plassere den på forskjellige steder. Dersom hurtiginnloggingen er deaktivert eller ikke kan ses, kan innloggingsbildet nås fra hovedmenyen.
Innloggingstiden i nedtrekksliste tilsvarer minuttene som du ønsker å være innlogget, som er det samme alternativet fra innloggingsbildet. Ved å velge Alltid fra nedtrekkslisten er dette det samme som å velge Forbli alltid innlogget på innloggingsbildet.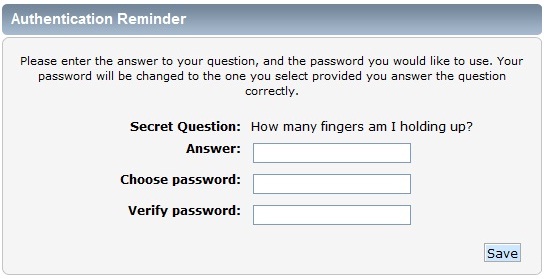 Passordpåminnelse
Hvis passordet er glemt eller mistet, kan du få nytt passord ved å velge alternativet Glemt passordet? fra innloggingsbildet. Skriv inn brukernavnet eller e-postadressen for kontoen for å begynne å tilbakestille passordet.
If a member has not set a secret question, an email containing a password reset link is automatically sent to the member's email address. Clicking on the link allows the member to choose a new password. If a secret question has been set, they will be given the option of receiving the email or answering their question. Members may create or change their secret question in Profile > Modify Account > Account Settings
Etter å ha svart riktig på det hemmelige spørsmålet, kan medlemmet velge et nytt passord. Passordet virker med en gang og kan brukes til å logge inn umiddelbart.
Logg ut
Når du er ferdig å lese på forumet, kan du velge å logge ut. Kanskje du deler en arbeidsstasjon med noen andre, i tilfelle vil det ikke være en god idé å forlate datamaskinen innlogget. Så velg Logg ut fra hovedmenyen og Forumet bør logge deg ut umiddelbar og du blir en gjest. Navnet ditt fjernes fra listen over brukere som er innlogget og din forumidentitet skjules inntil du velger å logge inn igjen.