Registering/nl
From Online Manual
Als een gebruiker een SMF forum opzet of lid wil worden van een ander SMF forum, moeten ze een account aanmaken.
Dit zal hen toelaten een vaste identiteit te behouden terwijl ze berichten plaatsen en opvolgen wat ze gelezen hebben, eender van waar uit ze werken of welke computer ze gebruiken. Het zal hen toelaten om een persoonlijke profiel in te vullen en het ingebouwde persoonlijke berichten systeem te gebruiken. Ze zullen ook de mogelijkheid hebben om te abonneren op e-mail notificaties, hun forum activiteiten opvolgen en meer.
Wanneer en hoe registreren
Sommige forums kunnen kiezen voor beperkte toegang te geven tot het volledige forum of tot geselecteerde gebieden en alleen geregistreerd leden toelating geven om de inhoud te bekijken. Een gast moet registreren als ze wensen deel te nemen aan een forum discussie, het forum regelmatig willen bezoeken en om toelating te krijgen voor de gebieden en voordelen van leden.
Een gast is elke persoon of robot die niet ingelogd is op het forum. Eens een persoon zich registreert word hij een lid, ze zullen wel als gast worden vertoont tot ze inloggen.
Leden hebben toegang tot profiel en notificatie opties die niet beschikbaar zijn voor gasten. Leden kunnen ook in ledengroepen geplaatst worden, moderator of administrator gemaakt worden, speciale toelatingen krijgen en toegang krijgen tot onderdelen alleen beschikbaar voor leden. De mogelijkheid hebben om persoonlijke berichten te versturen, forum mails ontvangen. Nieuwe polls en onderwerpen aanmaken zijn een paar bijkomende voordelen die beschikbaar kunnen zijn voor leden van het forum.
Een gast kan registeren op elk moment door eenvoudig de registratie opties te selecteren in het hoofdmenu.
Het registratie scherm
De meeste forums vereisen dat je hun registratie overeenkomst accepteert voor het registratie proces kan beginnen door de Ik ga akkoord optie aan te vinken. Een gast stemt in zich te houden aan deze overeenkomst gedurende de looptijd van zijn lidmaatschap. Sommige forums kunnen ook een minimum leeftijd opgenomen hebben in hun overeenkomst.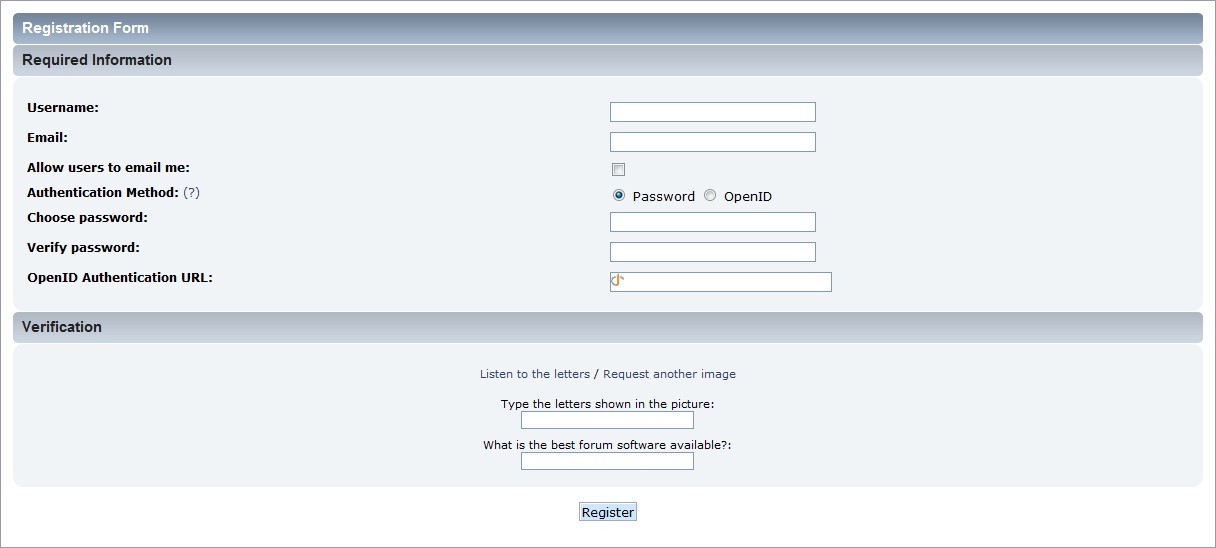 Wanneer men in het registratie scherm komt, word een gast gevraagd om een gebruikersnaam en een geldig e-mail adres in te vullen. Het invullen van een ongeldig e-mail adres kan de registratie hinderen al naargelang de configuratie van het forum. Gasten krijgen ook de mogelijkheid om andere forum leden hen te laten mailen.
Er moet een identificatie methode gekozen worden, de meest gebruikte methode is gewoon door een paswoord te kiezen, sommige forums kunnen ook de leden de mogelijkheid geven een OpenID te gebruiken.
A form of visual verification may be present in order to confirm that a guest is actually a person and not a bot. This verification may be requested in two ways - CAPTCHA and custom questions. The CAPTCHA method displays an image containing a random collection of letters, which a guest must enter into a text field. The custom questions method displays one or more relatively simple questions, which a guest must answer correctly. A forum may be configured to use both methods at the same time.
Once a guest completes the registration form, there are three possibilities for what is displayed next based on how the forum is configured.
Login - If registration is immediate, the new member will be automatically logged in after completing the registration form.
Activation - If a message about email activation is displayed, the new account must first be activated before login. An email with instructions how to proceed is sent to the new member's email address.
Approval - If a message about member approval is displayed, the new account must first be approved by an administrator before login. An email acknowledging the new member is sent to their email address. Another email is sent later to inform them whether or not their application has been approved.
Activating A New Account
If a forum is configured to require email activation before login, an email will be sent to the email address provided at registration. Important account information, such as username and password, can be found in this email, as well as an activation link. Selecting the activation link activates the member's account and prompts them to login. If a problem occurs with the activation link, the email also provides an activation code that can be used to complete the process.
If a member attempts to login before completing the activation process, an error will be displayed noting that their email address must be validated. A Need another activation email? link is also displayed in case the email has somehow been lost.