Registering/id
From Online Manual
Ketika pengguna membuat forum SMF, atau ingin untuk bergabung dengan forum SMF lainnya, mereka harus mendaftarkan akun. Ini akan mengijinkan mereka untuk menjaga identitas ketika posting dan melacak apa yang mereka baca, tidak perduli dimana mereka melakukannya atau komputer apa yang mereka pakai. Mereka bisa mengisi Profil (en) pribadi dan menggunakan sistem pesan pribadi (en) yang sudah terpasang. Mereka juga bisa berlangganan notifikasi e-mail, mengawasi aktifitas forum dan banyak lagi.
Kapan dan Bagaimana cara Mendaftar
Beberapa forum mungkin memilih untuk membatasi akses ke semua forum atau beberapa area, mengijinkan hanya kepada anggota yang terdaftar untuk melihat isinya. Tamu harus mendaftar ketika mereka ingin berpartisipasi dalam diskusi forum, sering mengunjungi forum, dan mengakses area khusus anggota dan keuntungan lainnya.
Tamu adalah seseorang atau perambah yang tidak login ke forum. Ketika seseorang terdaftar mereka menjadi anggota, namun, mereka akan tetap terlihat sebagai tamu sampai mereka login.
Members may have access to profile and notification options that are unavailable to guests, although these options may vary, depending on the permissions which have been set by the forum administrator. Members can also be placed in membergroups, made moderators or administrators, given special permissions and access to members-only areas. Being able to send personal messages, receive forum emails, and post new polls and topics are some additional benefits that may be available to members of the forum.
Tamu dapat mendaftar setiap saat dengan memilih opsi Daftar dari menu utama.
Halaman Pendaftaran
Hampir semua forum mengharuskan tamu untuk menerima perjanjian pendaftaran sebelum proses pendaftaran dapat dimulai. Dengan memilih opsi Saya Setuju, seorang tamu setuju untuk mematuhi perjanjian selama menjadi anggota. Beberapa forum juga mensyaratkan umur minimal dalam proses perjanjian.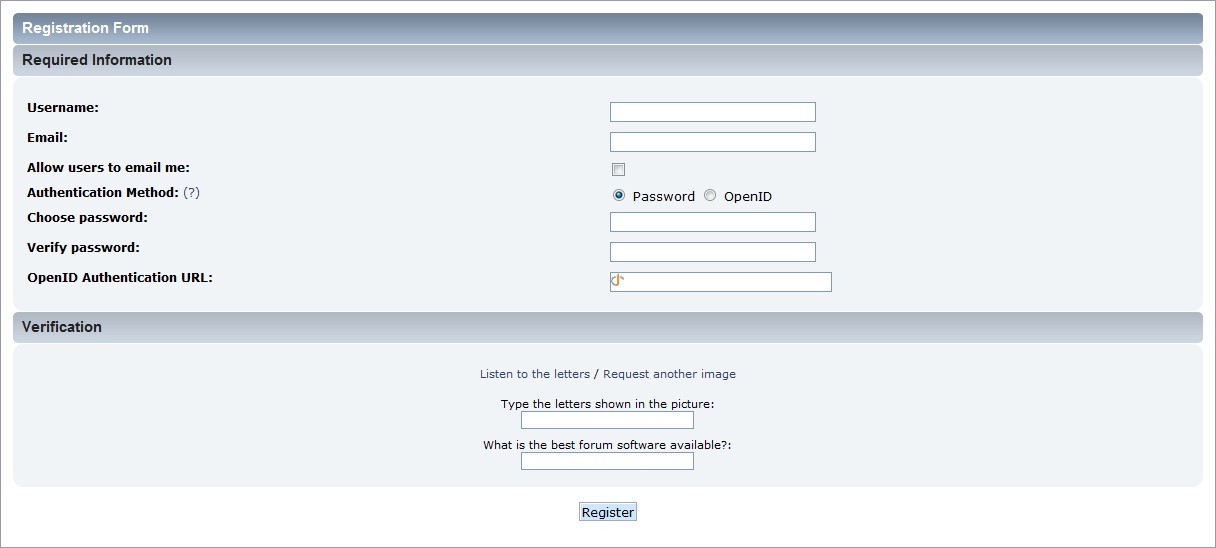 Saat keluar halaman pendaftaran, seorang tamu diminta untuk memasukkan nama pengguna dan alamat email yang valid. Kegagalan dalam menggunakan alamat email yang valid akan menghalangi pendaftaran, tergantung bagaimana konfigurasi forum.
The option to choose an authentication method is only shown if OpenID is allowed by the administrator as a registration option. If OpenID is not allowed, then a password must be entered.
Blangko verifikasi visual mungkin muncul untuk mengkonfirmasi bahwa tamu merupakan manusia atau bot. Verifikasi ini mungkin diminta dengan dua jalan - CAPTCHA dan pertanyaan khusus. Metode CAPTCHA menampilkan gambar berisi koleksi acak dari huruf, yang tamu harus isikan dalam sebuah kolom teks. Metode pertanyaan khusus menampilkan satu atau lebih pertanyaan yang relatif mudah, yang kemudian harus dijawab oleh tamu dengan benar. Forum mungkin dikonfigurasi untuk menggunakan kedua metode tersebut dalam satu waktu.
Setelah tamu menyelesaikan blangko pendaftaran, ada tiga kemungkinan apa yang akan ditampilkan selanjutnya berdasarkan konfigurasi forum.
Login - If registration is immediate, the new member will be automatically logged in after completing the registration form.
Activation - If a message about email activation is displayed, the new account must first be activated before login. An email with instructions how to proceed is sent to the new member's email address.
Approval - If a message about member approval is displayed, the new account must first be approved by an administrator before login. An email acknowledging the new member is sent to their email address. Another email may be sent later to inform them whether or not their application has been approved.
Mengaktifkan Akun Baru
If a forum is configured to require email activation before login, an email will be sent to the email address provided at registration. The username and activation link are displayed in this e-mail. Selecting the activation link activates the member's account and prompts them to login. If a problem occurs with the activation link, the email also provides an activation code that can be used to complete the process. Note that a link to reset the password may be included in this e-mail, depending on the activation method enabled on the forum.
Jika anggota mencoba untuk login sebelum menyelesaikan proses aktivasi, pesan kesalahan akan ditampilkan yang mana alamat email harus divalidasi. Link "Perlu email aktivasi lainnya?" akan ditampilkan jikalau email mungkin hilang.