Registering/sv
From Online Manual
When a user sets up an SMF forum, or wishes to join another SMF forum, they should register an account. This will enable them to maintain a consistent identity while posting and keep track of what they have read, no matter where they are working from or what computer they are using. They will be able to fill out a personal Profile and use the built-in Personal Message system. They will also be able to subscribe to e-mail notifications, monitor their forum activity and more.
När och hur man registrerar ett konto
Vissa forum väljer att begränsa åtkomsten till hela eller utvalda områden av forumet vilket gör att bara registrerade användare att se innehållet. En gäst bör registrera ett konto för att delta i forumdiskussioner, besöker forumet ofta eller vill ha tillgång till områden som kräver speciell behörighet.
En gäst är en person eller en bot som inte är inloggad på forumet. När en person registrerar ett konto blir de användare men kan fortfarande synas som gäster så länge de inte är inloggade.
Registrerade användare kan få tillgång till profilinformation och meddelandealternativ som inte är tillgängliga för gäster beroende på vilken behörighet som administratören har fastställt. Användare kan också bli medlem i grupper, bli moderator eller administratör eller få särskild behörighet till låsta områden. Att kunna skicka personliga meddelande, få e-postmeddelanden från forumet, skapa omröstningar och ämnen är ytterligare fördelar som kan vara tillgängliga för användare i forumet.
En gäst kan registrera ett konto när som helst genom att klicka på "Registrera konto" i huvudmenyn.
Sidan registrera konto
De flesta forum kräver ett godkännande av användaravtal innan registrering. Genom att klicka "Jag accepterar villkoren i användaravtalet" samtycker gästen till att uppfylla avtalet så länge det registrerade kontot existerar. Vissa forum kräver också att en minimiålder uppnås.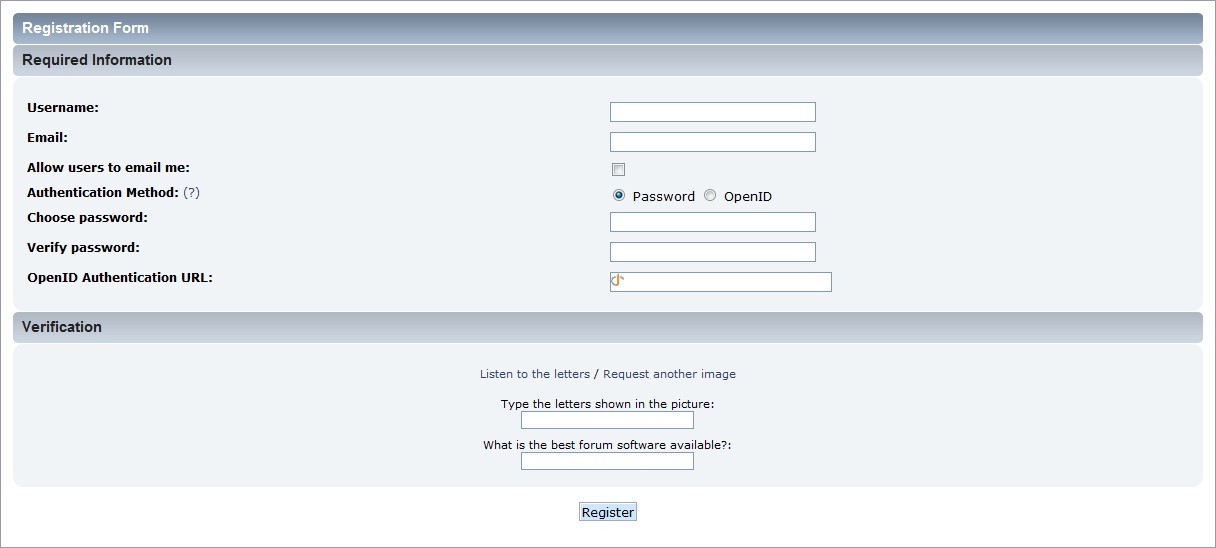 På sidan registrera konto måste användaren ange ett användarnamn och en giltig e-postadress. Beroende på hur forumet är konfigurerat kan en gäst bli nekad registrering om en giltig e-postadress inte kan anges.
Möjlighet att välja en autentiseringsmetod visas endast om OpenID tillåts av administratören som ett registreringsalternativ. Om OpenID inte är aktiverat måste ett lösenord anges.
En visuell verifiering kan förekomma för att bekräfta att en gäst är en riktig person och inte en bot. Denna verifikation kan begäras på två sätt, genom CAPTCHA eller frågor. CAPTCHA visar en bild med slumpmässigt valda bokstäver som gästen måste återge i ett textfält. Fråge-alternativet visar en eller flera relativt enkla frågor som gästen måste besvara korrekt. Forumet kan använda båda metoderna samtidigt.
När en gäst har slutfört registreringen kommer något av nedan alternativ att visas beroende på hur forumet är konfigurerat.
Login - If registration is immediate, the new member will be automatically logged in after completing the registration form.
Activation - If a message about email activation is displayed, the new account must first be activated before login. An email with instructions how to proceed is sent to the new member's email address.
Approval - If a message about member approval is displayed, the new account must first be approved by an administrator before login. An email acknowledging the new member is sent to their email address. Another email may be sent later to inform them whether or not their application has been approved.
Activating a New Account
If a forum is configured to require email activation before login, an email will be sent to the email address provided at registration. The username and activation link are displayed in this e-mail. Selecting the activation link activates the member's account and prompts them to login. If a problem occurs with the activation link, the email also provides an activation code that can be used to complete the process. Note that a link to reset the password may be included in this e-mail, depending on the activation method enabled on the forum.
If a member attempts to login before completing the activation process, an error will be displayed noting that their email address must be validated. A Need another activation email? link is also displayed in case the email has somehow been lost.