Registering/pt
From Online Manual
Quando um usuário cria um fórum SMF, ou deseja se juntar a outro fórum SMF, eles devem registrar uma conta. Isto irá permitir-lhes manter uma identidade constante ao postar e acompanhar o que eles leram, não importa onde eles estão trabalhando ou de que computador que estão usando. Eles serão capazes de preencher um perfil pessoal e usar o built-in sistema de mensagens pessoais. Eles também serão capazes de escrever notificações por email, controlar a sua atividade no fórum e muito mais.
Quando e como se Registrar
Alguns fóruns podem optar por restringir o acesso ao fórum inteiro ou áreas selecionadas, permitindo que somente os membros cadastrados possam visualizar o conteúdo. Um visitante deve registrar quando desejar participar das discussões do fórum, visitar frequentemente o fórum, acessar áreas exclusivas para membros e benefícios.
Um visitante é qualquer pessoa ou spider que não é registrado no fórum. Depois que uma pessoa registra tornar-se membro, contudo, eles ainda vão aparecer como convidado, até que façam login
Members may have access to profile and notification options that are unavailable to guests, although these options may vary, depending on the permissions which have been set by the forum administrator. Members can also be placed in membergroups, made moderators or administrators, given special permissions and access to members-only areas. Being able to send personal messages, receive forum emails, and post new polls and topics are some additional benefits that may be available to members of the forum.
Um visitante pode se registrar a qualquer momento, basta selecionar a opção Registo no menu principal.
A tela de Resgistro
A maioria dos fóruns requerem que um visitanteaceite o acordo de registo antes do processo de registro começar. Ao marcar a opção "Eu Aceito",um consentimentos de clientes para cumprir com o acordo durante toda a duração de sua filiação. Alguns fóruns também podem incorporar uma idade mínima para o processo de acordo.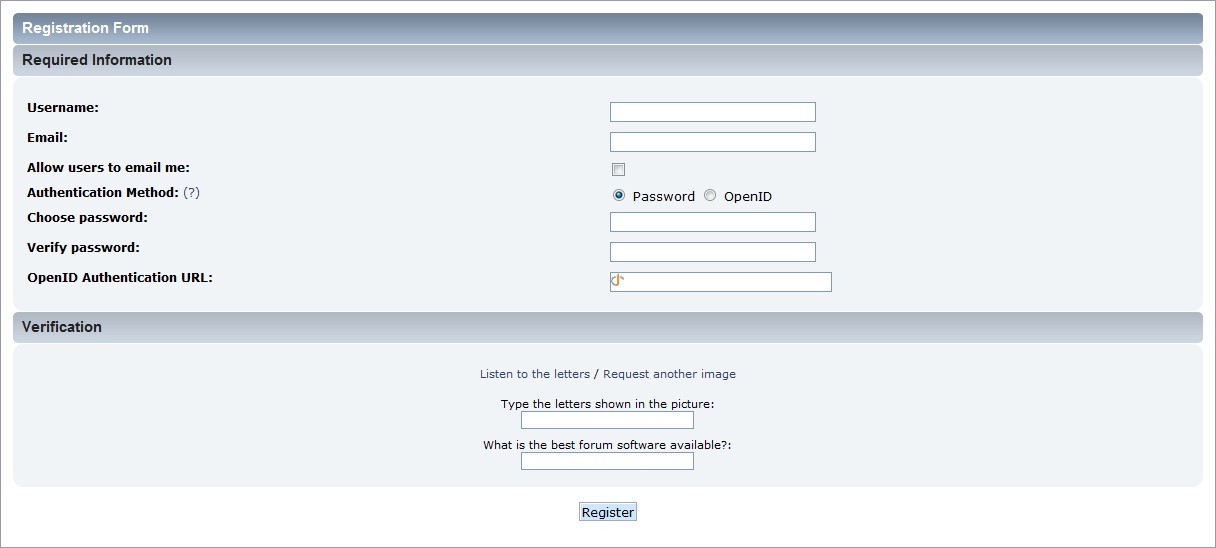 Na chegada à tela de registo, o visitante é solicitado a digitar um nome e um endereço de e-mail válidoum convidado é solicitado a digitar um nome e um endereço de e-mail válido. Não utilização um endereço de email válido pode impedir registro, dependendo de como o fórum está configurado.
The option to choose an authentication method is only shown if OpenID is allowed by the administrator as a registration option. If OpenID is not allowed, then a password must be entered.
Uma forma de verificação visual pode estar presente, a fim de confirmar que um visitante é realmente uma pessoa, e não um robô. Esta verificação pode ser solicitado de duas formas - CAPTCHA e perguntas personalizadas. O método CAPTCHAexibe uma imagem contendo uma coleção aleatória de letras, que um visitante deve escrever em um campo de texto. O método de perguntas personalizado exibe uma ou mais questões relativamente simples, que o visitante deve responder corretamente. Um fórum pode ser configurado para utilizar ambos os métodos, ao mesmo tempo.
Uma vez que um visitante preencheu o formulário de registo, existem três possibilidades para o que é exibido ao lado com base em como o fórum está configurado.
Login - If registration is immediate, the new member will be automatically logged in after completing the registration form.
Activation - If a message about email activation is displayed, the new account must first be activated before login. An email with instructions how to proceed is sent to the new member's email address.
Approval - If a message about member approval is displayed, the new account must first be approved by an administrator before login. An email acknowledging the new member is sent to their email address. Another email may be sent later to inform them whether or not their application has been approved.
Ativando uma Nova Conta
If a forum is configured to require email activation before login, an email will be sent to the email address provided at registration. The username and activation link are displayed in this e-mail. Selecting the activation link activates the member's account and prompts them to login. If a problem occurs with the activation link, the email also provides an activation code that can be used to complete the process. Note that a link to reset the password may be included in this e-mail, depending on the activation method enabled on the forum.
Se um membro tentar fazer o login antes de completar o processo de ativação ,um erro será exibido notificando que o seu endereço de e-mail deve ser validado. Um lind Precisa de outro e-mail de ativação? também é exibido no caso do e-mail de alguma forma for perdido.