Registriĝo
From Online Manual
Kiam uzantoj kreas SMF-forumon, aŭ volas aniĝi al jam ekzistanta SMF-forumo, ili registru konton. Tiamaniere uzantoj ricevas sian propran uzantnomon por afiŝado de mesaĝoj, kio sekve ebligas al ili spuri kion ili jam legis, sendepende de tio, kie ili laboras aŭ kiun komputilon ili uzas. Uzantoj havos la eblon plenigi personan profilon kaj uzi enkonstruitan sistemon por sendado de personaj mesaĝoj. Ĉiu uzanto ankaŭ povos ekaboni atentigojn pri novaj afiŝoj, spuri sian aktivecon en forumo kaj tiel plu.
Kiam kaj kiel registriĝi
En iuj forumoj povas esti por gastoj limigita aliro al la tuta forumo aŭ al certaj partoj. Tiuokaze, gastoj registriĝu, se ili volas partopreni en la koncernaj diskutoj. Gastoj registriĝu, se ili intencas ofte viziti la forumon, aŭ se ili volas ricevi permeson eniri partojn rezervitajn nur por anoj kaj plene profiti ties avantaĝojn.
Gasto estas ajna persono aŭ ret-araneo, kiu ne ensalutis en la forumon. Post registriĝo persono fariĝas ano, sed tia persono aperas en la listo de konektitoj kvazaŭ gasto ĝis li efektive ensalutos.
Anoj havas aldonajn opciojn pri siaj profiloj kaj atentigoj, kiuj ne disponeblas al gastoj. Anoj ankaŭ povas esti metitaj en anogrupoj, fariĝi moderigistoj aŭ administristoj, ricevi specialajn permesojn kaj aliron al partoj rezervitaj nur por anoj. Pliaj eblaj avantaĝoj por forumanoj inkluzivas la sendadon de personaj mesaĝoj, la ricevadon de forumaj retleteroj kaj la afiŝadon de novaj enketoj kaj fadenoj.
Gasto povas iam ajn registriĝi per nura klako al Registriĝi en la ĉefa menupanelo.
La registriĝa paĝo
Most forums require a guest to accept their registration agreement before the registration process can begin. By checking the I Agree option, a guest consents to comply with the agreement throughout the duration of their membership. Some forums may also incorporate a minimum age into the agreement process.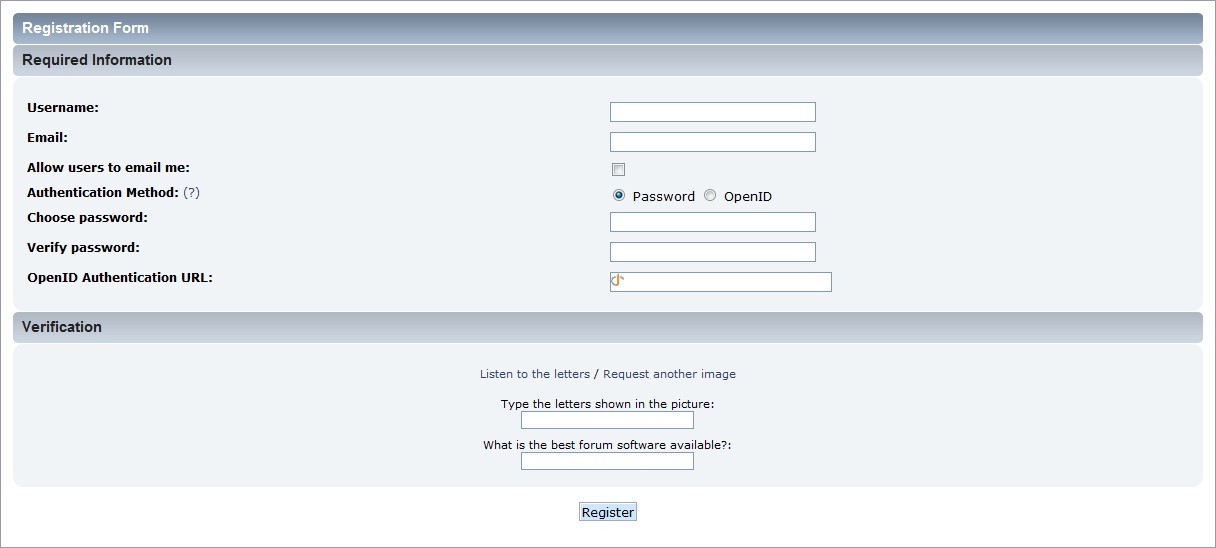 Upon arrival at the registration screen, a guest is requested to enter a username and a valid email address. Failure to use a valid email address may hinder registration, depending on how a forum is configured. Guests are also given the opportunity to allow forum members to email them.
An authentication method must be chosen, as well. The most common method is simply choosing a password. Although, some forums may provide members with the opportunity to use an OpenID.
A form of visual verification may be present in order to confirm that a guest is actually a person and not a bot. This verification may be requested in two ways - CAPTCHA and custom questions. The CAPTCHA method displays an image containing a random collection of letters, which a guest must enter into a text field. The custom questions method displays one or more relatively simple questions, which a guest must answer correctly. A forum may be configured to use both methods at the same time.
Once a guest completes the registration form, there are three possibilities for what is displayed next based on how the forum is configured.
Login - If registration is immediate, the new member will be automatically logged in after completing the registration form.
Activation - If a message about email activation is displayed, the new account must first be activated before login. An email with instructions how to proceed is sent to the new member's email address.
Approval - If a message about member approval is displayed, the new account must first be approved by an administrator before login. An email acknowledging the new member is sent to their email address. Another email is sent later to inform them whether or not their application has been approved.
Activating A New Account
If a forum is configured to require email activation before login, an email will be sent to the email address provided at registration. Important account information, such as username and password, can be found in this email, as well as an activation link. Selecting the activation link activates the member's account and prompts them to login. If a problem occurs with the activation link, the email also provides an activation code that can be used to complete the process.
If a member attempts to login before completing the activation process, an error will be displayed noting that their email address must be validated. A Need another activation email? link is also displayed in case the email has somehow been lost.