Registering/de
From Online Manual
Um ein neues Forum aufzusetzen oder sich in einem bestehenden Forum anzumelden muss ein Zugang registriert werden. Dieser ermöglicht eine eindeutige Identität unabhängig von Ort und Computer, um Beiträge zu verfassen oder bereits gelesene Beiträge zu kennzeichnen. Der Zugang ermöglicht ein eigenes Profil anzulegen oder das integrierte "Personal Mail"-System zu nutzen. Zusätzlich kann der Nutzer Email-Benachrichtigungen von Themen abbonieren oder seine Aktivitäten verfolgen.
Wann und wie registrieren?
Einige Forenbetreiber schränken den Zugriff auf einzelne Forenbereiche oder das ganze Forum für Gäste ein. Ein Gast müsste sich als Nutzer registrieren um an Diskussionen teilzunehmen, Mitgliederbereiche zu nutzen und von den Vorzügen profitieren zu können.
Ein Gast ist jede Person oder Suchmaschinen-Indezierer die nicht im Forum angemeldet ist. Registriert sich eine Person wird sie zum Mitglied. Sie wird aber als Gast angezeigt bis sie sich angemeldet hat.
Members may have access to profile and notification options that are unavailable to guests, although these options may vary, depending on the permissions which have been set by the forum administrator. Members can also be placed in membergroups, made moderators or administrators, given special permissions and access to members-only areas. Being able to send personal messages, receive forum emails, and post new polls and topics are some additional benefits that may be available to members of the forum.
Ein Gast kann sich zu jeder Zeit, durch Auswahl der Registrierungs-Option im Hauptmenü, registrieren.
Die Registrierungsmaske
Viele Foren fordern vom Gast die Nutzungsbedingungen zu akzeptieren bevor die Registrierung fortgesetzt werden kann. Mit dem klick auf "Ich akzeptiere die Nutzungsbedingungen" erklärt sich der Nutzer mit diesen Regeln während seiner Mitgliedschaft einverstanden. Einige Foren integrieren zudem eine Altersprüfung in den Registrierungsprozess.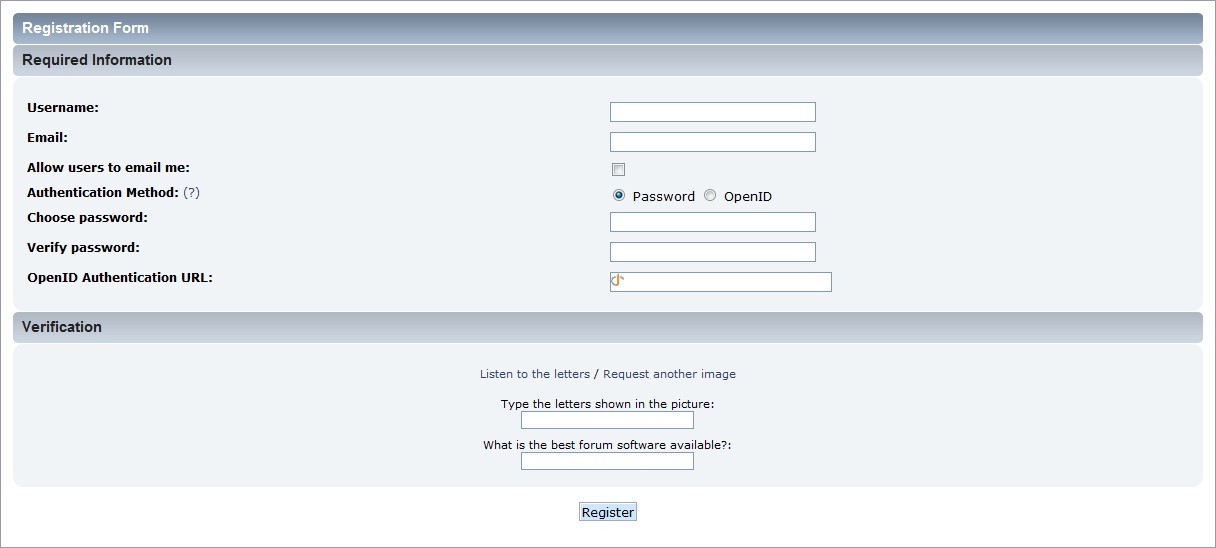 Upon arrival at the registration screen, a guest is requested to enter a username and a valid email address. Failure to use a valid email address may hinder registration, depending on how a forum is configured.
The option to choose an authentication method is only shown if OpenID is allowed by the administrator as a registration option. If OpenID is not allowed, then a password must be entered.
Möglicherweise wird eine Form der visuellen Überprüfung angezeigt. Dies geschieht um sicher zu stellen, dass Gäste eine reale Person und kein Robot sind. Dies kann auf 2 wegen geschehen, mit sogenannten CAPTCHAs oder mit Verifizierungsfragen. Die CAPTCHA-Methode zeigt ein Bild mit per Zufall ausgewählten und verdrehten Buchstaben, welche in ein Feld einzugen sind. Die Verifizierungsfragen sind einfache Fragen welche ein Gast korrekt beantworten muss. In manchen Foren werden auch beide Methoden verwendet.
Abhängig von den Einstellungen des Forums werden dem Nutzer einer von drei möglichen Dialogen zur vervollständigung der Registrierung angezeigt.
Login - If registration is immediate, the new member will be automatically logged in after completing the registration form.
Activation - If a message about email activation is displayed, the new account must first be activated before login. An email with instructions how to proceed is sent to the new member's email address.
Approval - If a message about member approval is displayed, the new account must first be approved by an administrator before login. An email acknowledging the new member is sent to their email address. Another email may be sent later to inform them whether or not their application has been approved.
Einen neuen Zugang aktivieren
If a forum is configured to require email activation before login, an email will be sent to the email address provided at registration. The username and activation link are displayed in this e-mail. Selecting the activation link activates the member's account and prompts them to login. If a problem occurs with the activation link, the email also provides an activation code that can be used to complete the process. Note that a link to reset the password may be included in this e-mail, depending on the activation method enabled on the forum.
Sollte ein Nutzer versuchen sich anzumelden bevor die Registrierung abgeschlossen wurde, weist ein Hinweis auf die fehlende Validierung hin. Zudem wird dem User die Möglichkeit gegeben sich eine neue Aktivierungsemail zusenden zu lassen.