Profile/sr-el: Difference between revisions
From Online Manual
(4 intermediate revisions by the same user not shown)
Line 1:
Line 1:

{{Other languages}}

{{Other languages}}

{{TOCright}}

{{TOCright}}

{{DISPLAYTITLE:Profil}}

<div class="mw-translate-fuzzy">

Korisnički profil uključuje mnogo ključnih detalja o članu i može vam pomoći u ličnom podešavanju foruma, postavljanju potpisa, avatara i kontakt informacije. Obično će ostali članovi foruma moći da vide vaš profil, ukoliko administratori ne isključe ovu dozvolu.

</div>






<div class="mw-translate-fuzzy">

Član koji pregleda sopstveni profil će primetiti da ima dosta razlika u odnosu na pregled profila ostalih članova, osim ako je on administrator ili su mu odobrene dodatne dozvole.

 

</div>

, .






Administrator će videti profile članova na isti način kao što član vidi svoj profil, sa još više podešavanja nego što član može videti. Ovo omogućava administratoru da kontroliše sva podešavanja bilo kog člana.

Administrator će videti profile članova na isti način kao što član vidi svoj profil, sa još više podešavanja nego što član može videti. Ovo omogućava administratoru da kontroliše sva podešavanja bilo kog člana.






<div class="mw-translate-fuzzy">

.

Profil je podeljen na tri kategorije koje daju različita podešavanja i opcije. Ovo ćete pronaći u meniju, sa leve strane svakog profila.

</div>






==Informacije profila==

==Informacije profila==

Line 20:
Line 14:

===Pregled===

===Pregled===






<div class="mw-translate-fuzzy">

, . SMF forum , .

Pregled profila pokazuje osnovne informacije o članu, kao i dodatne informacije koje član želi da podeli sa ostalima. SMF forum može biti različito podešen od strane administratora, pa se informacije koje se prikazuju razlikuju od foruma do foruma.

{{image|profile_summary.jpg|thumb|500px}}

{{image|profile_summary.jpg|thumb|500px}}

</div>






Član može videti svoj profil klikom na ''Profil'' link u glavnom meniju. Član može videti i profile drugih članova klikom na korisnikovo ime bilo gde na forumu. Sledeće stavke su najčešće prikazane u pregledu profila drugih članova.

Član može videti svoj profil klikom na ''Profil'' link u glavnom meniju. Član može videti i profile drugih članova klikom na korisnikovo ime bilo gde na forumu. Sledeće stavke su najčešće prikazane u pregledu profila drugih članova.






<div class="mw-translate-fuzzy">

- >






*'''Ime''' - Korisnik može izabrati ime za prikaz drugačije od korisničkog imena.

*'''''' - .

</div>






<div class="mw-translate-fuzzy">

-

-






*'''Korisnička grupa''' - Ukoliko je član u nekoj primarnoj korisničkoj grupi ona će biti prikazana. U suprotnom, biće prikazana grupa bazirana na broju poruka.

*'''''' - .

*'''Ikonice komunikacije''' - Ukoliko član pruža informacije o metodima za kontakt kao što su imejl, veb sajt, ICQ ili AIM, biće prikazane odgovararajuće ikonice.

.

</div>

*'''''' - .






<div class="mw-translate-fuzzy">

*'''''' - forum ', .

 

*'''''' - , .

*'''Trenutni status''' - Ukoliko član nije odlučio da sakrije svoj status, biće prikazano da li je član trenutno na mreži ili van mreže.

*'''Dodaj u listu prijatelja''' - Ukoliko su administratori foruma omogućili listu prijatelja, moguće je dodavati članove u tu listu.

*'''Pošalji privatnu poruku''' - Korisnik može poslati privatnu poruku drugom korisniku.

</div>

 

<div class="mw-translate-fuzzy">

 

*'''Prikaži poruke''' - Sve poruke određenog člana.

*'''Prikaži statistiku''' - Korisnici mogu videti statistiku datog člana.

*'''Korisničko ime''' - Članovi koriste korisničko ime za prijavljivanje na forum.

</div>

 

<div class="mw-translate-fuzzy">

 

*'''Poruke''' - Forum prati poruke članova, kao i dnevni prosek poruka.

*'''Imejl''' - Korisnik može izabrati da sakrije imejl, a ukoliko ne izabere ovu opciju njegov imejl će biti prikazan ostalim članovima.

*'''{{llink|Custom Title|text=Custom Title}}''' - If a member has been given a custom title, it is displayed.

*'''{{llink|Custom Title|text=Custom Title}}''' - If a member has been given a custom title, it is displayed.

</div>

<div class="mw-translate-fuzzy">






*'''{{llink|Karma|text=Karma}}''' - If Karma has been enabled by the forum administrator it is displayed.

*'''{{llink|Karma|text=Karma}}''' - If Karma has been enabled by the forum administrator it is displayed.

*'''Pol''' - Korisnik može uzabrati da ne otkriva svoj pol, i u tom slučaju ništa neće biti prikazano.

*'''''' - , .

*'''Lični tekst''' - Ukoliko je član stavio lični tekst u profil, on će biti prikazan.

*'''''' - , .

*'''Godine''' - Ukoliko je član uneo datum rođenja, biće prikazane njegove godine.

*'''''' - , .

</div>

 

<div class="mw-translate-fuzzy">






*'''Lokacija''' - Ukoliko član odluči da odredi lokaciju, ona će biti prikazana ostalim članovima.

*'''''' - , .

*'''Warning Level''' - If a member has been warned it is displayed to administrators, and also to moderators who have been assigned the necessary permissions.

*'''Warning Level''' - If a member has been warned it is displayed to administrators, and also to moderators who have been assigned the necessary permissions.

*'''Datum registracije''' - Prikazuje datum registracije svakog člana.

*'''''' - .

</div>

 

<div class="mw-translate-fuzzy">






*'''IP and Hostname''' - This is displayed to administrators, and also to moderators who have been assigned the necessary permissions.

*'''IP and Hostname''' - This is displayed to administrators, and also to moderators who have been assigned the necessary permissions.

*'''Lokalno vreme''' - Pošto članovi mogu biti iz bilo kog kraja sveta, njihovo lokalno vreme je prikazano u profilu.

*'''''' - , .

*'''Language''' - This is displayed if it has been enabled by a forum administrator.

*'''Language''' - This is displayed if it has been enabled by a forum administrator.

</div>

<div class="mw-translate-fuzzy">






*'''Zadnji put prijavljen''' - Forum prati poslednje aktivnosti svakog člana.

*'''''' - .

*'''Potpis''' - Korisnik može imati potpis koji je takođe prikazan u profilu.

*'''''' - .

*'''Advanced profile fields''' - If this core feature has been enabled by the administrator additional custom fields may appear on the profile summary.

*'''Advanced profile fields''' - If this core feature has been enabled by the administrator additional custom fields may appear on the profile summary.

</div>






<div class="mw-translate-fuzzy">

.

 

Imajte na umu da kada koristite menije sa strane, zbirni sadržaj profila će se razlikovati.

</div>






===Prikaži poruke===

===Prikaži poruke===

Line 105:
Line 67:

Prozor sa statistikom člana može biti pregledan selektovanjem ''Prikaži Statistiku'' iz članovog profila. Ovde možete pronaći neke interesantne informacije:

Prozor sa statistikom člana može biti pregledan selektovanjem ''Prikaži Statistiku'' iz članovog profila. Ovde možete pronaći neke interesantne informacije:






<div class="mw-translate-fuzzy">

-

-






*'''Ukupno vreme provedeno na forumu''' - Forum prati ukupno vreme koje svaki član provede surfujući forumom.

*'''''' - .

*'''Ukupno poruka''' - Ne računajući izbrisane poruke, forum prati ukupan broj poruka svakog člana.

*'''''' - , forum .

</div>






<div class="mw-translate-fuzzy">

-

-






*'''Ukupno pokrenutih tema''' - Ne računajuči izbrisane teme, forum prati ukupan broj pokrenutih tema svakog člana.

*'''''' - , .

*'''Broj napravljenih glasanja''' - Ne računajući izbrisana glasanja, forum prati ukupan broj pokrenutih anketa na forumu.

*'''''' - forum , '.

</div>

 

<div class="mw-translate-fuzzy">

 

*'''Broj glasanja''' - Ne računajući izbrisane, forum prati ukupan broj glasanja u anketama na forumu.

*'''Slanje poruka u zavisnosti od vremena''' - Forum računa procenat ostavljanja poruka na dnevnom nivou u zavisnosti od vremena.

</div>

 

<div class="mw-translate-fuzzy">

 

*'''Najpopularniji forumi po porukama''' - Forum pravi listu najpopularnijih foruma na kojima član ostavlja poruke na osnovu broja poruka člana.

*'''Najpopularniji forumi po aktivnosti''' - Forum pravi listu najpopularnijih foruma člana, u odnosu na ukupan broj poruka u forumu.

</div>






===Prikaži dozvole===

===Prikaži dozvole===






<div class="mw-translate-fuzzy">

. Member|, , Board|.

Ova stranica je prikazana samo korisnicima koji su u korisničkoj grupi koja ima dozvole da uređuje dozvole. Ova stranica će prikazati sve dozvole koje određeni [[Member|član]] ima, uključujući i forume koje član ne može da vidi, kao i opciju da se vide dozvole za [[Board|forume]] koji koriste lokalne dozvole, koristeći padajuću listu svih lokalnih dozvola koja vam omogućava da vidite koje dozvole ima [[Member|član]] u lokalno podešenim forumima.

</div>






===Praćenje korisnika===

===Praćenje korisnika===

Line 139:
Line 87:

Ove stranice su omogućene samo korisničkim grupama koje imaju dozvolu da ''Upravljaju korisnicima''.

Ove stranice su omogućene samo korisničkim grupama koje imaju dozvolu da ''Upravljaju korisnicima''.






<div class="mw-translate-fuzzy">

*'''''' - IP , , , . error .

 

*'''Aktivnost''' - Ovde možete videti poslednje korišćene IP adrese korisnika, zajedno sa IP adresama koje su korišćene u porukama, u greškama, kao i korisnike koji koriste isti IP opseg. Ispod toga su sve error poruke koje su uzrokovane od strane datog člana.

</div>

 

<div class="mw-translate-fuzzy">






*'''IP adrese''' - Ovde možete pratiti korisnikovu trenutnu IP adresu, kao i videti članove sa istim IP opsegom. Takođe možete videti poruke ostavljene sa određenom IP adresom.

*'''IP ''' - IP IP. IP.

</div>






<div class="mw-translate-fuzzy">

*'''''' - , . Core_FeaturesModeration.2C_Administration.2C_and_User_Logs|, Core Features|.

 

*'''Izmene profila''' - Ova sekcija daje listu tačnih akcija koje se tiču promene profila datog korisnika, sa naznakom o datumu i izvršiocu promene. Da bi videli ove informacije [[Core_Features#Moderation.2C_Administration.2C_and_User_Logs|Moderatorski, administratorski i korisnički log]] moraju biti uključeni u [[Core Features|Bazična podešavanja]] sekciji.

</div>






==Izmeni profil==

==Izmeni profil==

Line 160:
Line 99:

Korisnici mogu modifikovati baziča podešavanja. Ova podešavanja menjaju korisnički pristup nalogu, kao i opcije kada će i kako biti vidljivi ostalim članovima kada surfuju forumom. Sledeće opcije je moguće promeniti:

Korisnici mogu modifikovati baziča podešavanja. Ova podešavanja menjaju korisnički pristup nalogu, kao i opcije kada će i kako biti vidljivi ostalim članovima kada surfuju forumom. Sledeće opcije je moguće promeniti:






<div class="mw-translate-fuzzy">

-

-






*'''Ime''' - Dok korisničko ime uglavnom nije moguće promeniti, korisnici mogu promeniti njihovo ime za prikaz bilo kada. Ostali članovi će videti ovo ime prikazano prilikom surfovanja forumom.

*'''''' - , .

*'''Izabran jezik''' - Ukoliko je ova opcija uključena od strane administratora, korinsici mogu podesiti jezik foruma.

*'''''' - , .

</div>






<div class="mw-translate-fuzzy">

-

-






*'''Imejl''' - Moguće je promeniti imejl adresu, ali neophodno je uneti validnu adresu.

*'''''' - . .

*'''Omogući korisnicima da mi šalju imejl''' - Korisnik može izabrati da li želi da dozvoli ostalim korisnicima da ga kontaktiraju putem imejla. Forum ne otkrica imejl adresu, već šalje mejl putem kontakt forme.

*'''''' - '.

</div>

 

<div class="mw-translate-fuzzy">

 

*'''Prikaži ostalima moj status prisutnosti''' - Ukoliko je čekirano korisnik će biti prikazan u listi članova koji su na mreži.

*'''Promeni šifru''' - korisnikova šifra može biti promenjena u bilo koje doba.

</div>

 

<div class="mw-translate-fuzzy">

 

*'''Tajno pitanje''' - Tajno pitanje se koristi ukoliko član zaboravi svoju šifru. Davanje tačnog odgovora daje korisniku mogućnost da povrati svoju šifru.

*'''Trenutna šifra''' - Neophodno ju je uneti kako bi se promenila podešavanja profila.

</div>






===Profil na forumu===

===Profil na forumu===

Line 188:
Line 115:

Kao dodatak klasičnim podešavanjima naloga, korisnici takođe imaju opciju popunjavanja dodatnih privatnijih informacija. Ni jedno od ovih polja nije neophodno za popunjavanje, i korisnici obično izaberu da neka polja ostave prazna:

Kao dodatak klasičnim podešavanjima naloga, korisnici takođe imaju opciju popunjavanja dodatnih privatnijih informacija. Ni jedno od ovih polja nije neophodno za popunjavanje, i korisnici obično izaberu da neka polja ostave prazna:






<div class="mw-translate-fuzzy">

-






*'''Avatar''' - Avatar je mala slika povezana sa članom. Neki forumi mogu dopustiti članovima da uploaduju sliku ili da ostave link do iste, dok ostali mogu samo omogućiti odabir ponuđenih avatara.

*'''''' - .

</div>

, .






<div class="mw-translate-fuzzy">

-

-






*'''Lični tekst''' - Lični tekst se uglavnom prikazuje ispod korisnikovog avatara u porukama.

*'''''' - .

*'''Datum Rođenja''' - Kada korisnik ostavi svoj datum rođenja njegove godine su prikazane u profilu člana. Ukoliko je omogućen kalendar na forumu rođendan ćlana će biti postavljen u kalendar. Takođe je moguće ostaviti datum rođenja, ali ne i godinu, i u tom slučaju rođendan člana će se prikazati u kalendaru, samo bez uračunatih godina.

*'''''' - . .

</div>






<div class="mw-translate-fuzzy">

*'''''' - , '.

 

*'''''' - URL .

*'''Lokacija''' - Korisnici mogu ostaviti podatak o svojoj lokaciji. Nije preporučljivo da članovi ostavljanju specifične lokacije u formi adrese ili koordinata.

*'''Pol''' - Ukoliko žele, članovi mogu imati prikazan pol na forumu. Obeležavanje praznog polja neće prikazati informacije o polu.

</div>

 

<div class="mw-translate-fuzzy">

 

*'''Chat klijenti''' - Korisnici mogu ostaviti podatke o korisničkom imenu za klijente kao što su ICQ, AIM, MSN ili YIM.

*'''Specifičan naziv''' - administratori mogu omogućiti članovima da izaberu lični naziv koji je prikazan ispod korisničkog imena u porukama na fourmu.

</div>

 

<div class="mw-translate-fuzzy">

 

*'''Potpis''' - Ukoliko je ovo polje popunjeno, potpis se dodaje na dno svake poruke člana na forumu.

*'''Veb sajt''' - Korisnici mogu reklamirati svoj sajt ostavljajući URL i naslov svog sajta.

</div>






===Podešavanje izgleda===

===Podešavanje izgleda===

Line 225:
Line 137:

Sledeće opcije mogu biti uključene ili isključene biranjem odgovarajućih kutija:

Sledeće opcije mogu biti uključene ili isključene biranjem odgovarajućih kutija:






<div class="mw-translate-fuzzy">

*'''.''' - .

 

*'''.''' - . .

*'''Prikaži opise foruma unutar foruma.''' - Opis prikazan na početnoj stranici foruma takođe će biti prikazan na početnoj stranici tog foruma.

*''' Prikaži spisak potforuma na svakoj strani foruma a ne samo na prvoj.''' - Svaka stranica unutar foruma će prikazati listu potforuma ako postoje. Ako je onemogućeno lista će biti prikazana samo na prvoj stranici.

</div>

 

<div class="mw-translate-fuzzy">






{{ {{Localized|Version specific}}|small=yes|version=2.0|content=

{{ {{Localized|Version specific}}|small=yes|version=2.0|content=

*'''Koristi menije sa strane umesto padajućih menija gde god je to moguće.''' - Ako se žele meniji sa strane, mogu se koristiti umesto padajućih menija.}}

*'''.''' - , .}}

</div>

 

<div class="mw-translate-fuzzy">

 

*'''Ne prikazuj avatare korisnika.'''- Nekim korisnicima nailaženje na avatare može biti neugodno, tako da mogu da izaberu da ih sve skupa sakriju.

*'''Ne prikazuj potpise korisnika.''' - Slično kao i avatari, potpisi takođe mogu biti sakriveni.

*'''Vrati se na temu nakon slanja podrazumevano.''' - Ukoliko je omogućeno, član će biti vraćen na kraj teme u kojoj je upravo pisao. Inače, biće vraćen na početnu stranicu tog foruma.

</div>

 

<div class="mw-translate-fuzzy">






*'''Ne upozoravaj me o novim odgovorima poslatim prilikom pisanja poruke.''' - Kada drugi korisnici napišu poruku dok član priprema svoju poruku, upozorenje će nastati. Sa omogućenom ovom opcijom, ova upozorenja će biti sakrivena.

*'''.'''- ,

*'''Sakrij poruke članova koji se nalaze na mom spisku ignorisanja.''' - Poruke korisnika sa liste ignorisanih članova neće biti prikazane.

., .

</div>

*'''.''' - .






<div class="mw-translate-fuzzy">

-

-






*'''Prikaži najnovije poruke pri vrhu.''' - Redosled prikazivanja poruka je preokrenut u hronološki suprotan kada je ova opcija omogućena.

*'''.''' - .

*'''Prikaži WYSIWYG editor na strani za slanje poruka podrazumevano.''' - WYSIWYG editor eliminiše poznavanje BBC. Može biti omogućeno podrazumevano kod pisanja.

*'''WYSIWYG editor .''' - WYSIWYG editor . .

</div>






Članovi mogu da biraju koliko tema se prikazuje po stranici u početnoj stranici foruma i koliko poruka se prikazuje po stranici u temi. Takođe postoje opcije za korišćenje brzog odgovora i brzog uređivanja. Brz odgovor omogućava članovima da odgovore na temu zapravo bez korišćenja stranice za odgovor. Brzo uređivanje omogućava da brže izvršavaju uredničke akcije u više poruka ili tema ako imaju dozvole da to rade.

Članovi mogu da biraju koliko tema se prikazuje po stranici u početnoj stranici foruma i koliko poruka se prikazuje po stranici u temi. Takođe postoje opcije za korišćenje brzog odgovora i brzog uređivanja. Brz odgovor omogućava članovima da odgovore na temu zapravo bez korišćenja stranice za odgovor. Brzo uređivanje omogućava da brže izvršavaju uredničke akcije u više poruka ili tema ako imaju dozvole da to rade.

Line 260:
Line 157:

===Verodostojnost===

===Verodostojnost===






<div class="mw-translate-fuzzy">

OpenID . , , .

Forum omogućava članu da se prebaci između korišćenja OpenID ili kombinacije korisničkog imena i lozinke za prijavljivanje.Da bi se prebacio, međutim, zahteva se trenutna lozinka naloga.

</div>






===Obaveštenja===

===Obaveštenja===

Line 268:
Line 163:

SMF omogućava opciju obaveštavanja koja se pokazala korisna mnogim članovima. Ova opcija podrazumeva trenutne, dnevne ili nedeljne poruke obaveštenja o novim odgovorima, moderatorskim akcijama ili i jednom i drugom, vezanim za teme za koje je član zatražio obaveštenja.

SMF omogućava opciju obaveštavanja koja se pokazala korisna mnogim članovima. Ova opcija podrazumeva trenutne, dnevne ili nedeljne poruke obaveštenja o novim odgovorima, moderatorskim akcijama ili i jednom i drugom, vezanim za teme za koje je član zatražio obaveštenja.






<div class="mw-translate-fuzzy">

*''', .''' - , , '. , .

 

* '''Primaj forumske novosti, saopštenja i važna obaveštenja na imejl adresu.''' - Novosti, saopštenja, i druga obaveštenja će biti dostavljena članu na imejl. Čak i ako je ova opcija zabranjena, administratori foruma su u mogućnosti da je pregaze.

</div>

 

<div class="mw-translate-fuzzy">

 

* "'Uključi obaveštavanje kada napišeš poruku ili odgovoriš na temu."' - Kada članovi otvore novu temu ili odgovare na postojeću temu, obaveštenje o tome će automatski biti uključeno kada je ova opcija omogućena.

</div>






<div class="mw-translate-fuzzy">

-






* "'Kada se šalju obaveštenja o odgovorima na temu, pošalji poruku na imejl (ali vas molimo da ne odgovarate na ovaj imejl.)"' - Imejl obaveštenja će uključivati sadržaj tih poruka. Na ove imejl poruke ne treba da se odgovara.

*', (.' - . .

Na ovoj stranici je takođe moguće odrediti učestalost obaveštavanja i aktivnosti za koje će biti obavešten. Član može takođe da vidi popis tema i foruma za koje je zatražio obaveštenje. Ako se želi, može se isključiti obaveštavanje za neke od njih ili za sve.

. . , .

</div>






===Ignore Boards Options===  

===Ignore Boards Options===  

Line 316:
Line 202:

==Akcije==

==Akcije==






<div class="mw-translate-fuzzy">

===Pošalji privatnu poruku===

====Pošalji privatnu poruku====

</div>






Kliknite ovaj link za slanje Privatne poruke članu čiji profil gledate. Dozvola za slanje {{llink|personal messages|text=privatne poruke}} je potrebna kako bi videli ovaj link.

Kliknite ovaj link za slanje Privatne poruke članu čiji profil gledate. Dozvola za slanje {{llink|personal messages|text=privatne poruke}} je potrebna kako bi videli ovaj link.

Line 325:
Line 209:

On this page a moderator can issue a {{llink|Warning|text=Warning}} to other users based on their behavior or other reasons determined by the forum staff.

On this page a moderator can issue a {{llink|Warning|text=Warning}} to other users based on their behavior or other reasons determined by the forum staff.






<div class="mw-translate-fuzzy">

===Plaćene Pretplate===

====Plaćene Pretplate====

</div>






{{image|profile_subscription1.jpg|thumb|300px}}

{{image|profile_subscription1.jpg|thumb|300px}}

Line 335:
Line 217:

Forum takođe izlistava postojeće pretplate članova ako ih imaju.

Forum takođe izlistava postojeće pretplate članova ako ih imaju.






<div class="mw-translate-fuzzy">

===Zabrani Ovog Korisnika===

====Zabrani Ovog Korisnika====

</div>






Na ovoj stranici administratori mogu zabraniti člana čiji profil gledaju sa foruma. Samo članovi koji imaju dozvolu ''Upravljaj listom zabrana'' mogu videti ovaj link i izvršiti akciju. Kao i sa brisanjem naloga, '''koristite ovu opciju sa pažnjom.''' Upamtite, ovaj link će vas uputiti na {{llink|Ban_list|anchor= Add_New_Ban|Dodaj novu zabranu}} sekciju admin panela sa nekim već popunjenim detaljima o članu koga želite zabraniti.

Na ovoj stranici administratori mogu zabraniti člana čiji profil gledaju sa foruma. Samo članovi koji imaju dozvolu ''Upravljaj listom zabrana'' mogu videti ovaj link i izvršiti akciju. Kao i sa brisanjem naloga, '''koristite ovu opciju sa pažnjom.''' Upamtite, ovaj link će vas uputiti na {{llink|Ban_list|anchor= Add_New_Ban|Dodaj novu zabranu}} sekciju admin panela sa nekim već popunjenim detaljima o članu koga želite zabraniti.






<div class="mw-translate-fuzzy">

===Obriši Ovaj Nalog===

====Obriši Ovaj Nalog====

</div>






{{image|profile_delete.jpg|thumb|300px}}

{{image|profile_delete.jpg|thumb|300px}}
---
Revision as of 00:12, 9 May 2014
A member's profile includes many key details about the member and can help them manage their own personal forum preferences. A member may also have the option to write their own signature, upload an avatar, and enter personal contact information. Usually, other members of the forum will be able to view your profile unless the admin disallows this permission.
A member viewing their own profile will find a lot of differences when comparing their profile to that of other members, unless they are an admin or have been granted the required permissions.
Administrator će videti profile članova na isti način kao što član vidi svoj profil, sa još više podešavanja nego što član može videti. Ovo omogućava administratoru da kontroliše sva podešavanja bilo kog člana.
The profile is broken down into three categories of settings and options which are described below.
Informacije profila
Pregled
The Summary screen (in the section Profile Info) displays basic forum information about a member, as well as any additional information that they may wish to share. An SMF forum may be customized extensively by its administrator(s), so the information displayed may vary greatly between forums.

Član može videti svoj profil klikom na Profil link u glavnom meniju. Član može videti i profile drugih članova klikom na korisnikovo ime bilo gde na forumu. Sledeće stavke su najčešće prikazane u pregledu profila drugih članova.
Display Name - A member may choose a display name that is different to their username. The Display Name appears next to a member's posts in the forum, so it is the name that is visible to the public. After registering at a forum, the display name is usually set to be the same as the username, but you can change this in the section Profile > Account Settings. Change the text in the field Name and then click on Change profile at the bottom of the page in order to save.
Membergroup - If a member has been assigned a primary membergroup, it is displayed. Otherwise, their post-based membergroup is displayed.
Communication Icons - If a member provides information for various communication methods such as email, web site, ICQ, or AIM, it will be displayed in the form of icons.
Online Status - If a member has not chosen to hide their online status, it is displayed.
Add To Buddy List - If the forum administrator(s) have enabled buddy lists, members may add each other as buddies.
Send PM - A member may send a private message to another member.
Show Posts - All of the posts of a particular member.
Show Stats - A member may view various stats related to another member.
Username - A member uses their username to login. This entry is listed only when members are viewing their own profile.
Posts - The forum keeps track of the number of each member's post, as well as an average per day.
Email - A member may choose to hide their email, in which case it is not displayed.
Custom Title (en) - If a member has been given a custom title, it is displayed.
Karma (en) - If Karma has been enabled by the forum administrator it is displayed.
Personal Text - If a member has chosen to enter personal text, it is displayed.
Gender - A member may choose not to disclose their gender, in which case it is not displayed.
Age - If a member has filled in their birth date, their age is displayed.
Location - If a member has chosen to disclose their location, it is displayed.
Warning Level - If a member has been warned it is displayed to administrators, and also to moderators who have been assigned the necessary permissions.
Date Registered - The forum remembers when each member first registered.
IP and Hostname - This is displayed to administrators, and also to moderators who have been assigned the necessary permissions.
Local Time - Since a member may be from any part of the world, their local time is displayed.
Language - This is displayed if it has been enabled by a forum administrator.
Last Active - The forum keeps track of when a member was last active.
Signature - If a member has created a signature, then it is displayed here.
Advanced profile fields - If this core feature has been enabled by the administrator additional custom fields may appear on the profile summary.
Note that when using the side menu certain items such as Show Stats and Show Posts will appear in this side menu rather than in the profile summary.
Prikaži poruke
Sve poruke pojedinačnog člana, uključujući i one koje su izbrisane, mogu biti pogledane selektovanjem Prikaži poruke iz korisničkog pregleda profila. Postoje tri formata koji se mogu koristiti:
Poruke - Lista svih poruka određenog člana.
Teme - Lista tema koje je pokrenuo određeni član.
Prilozi - Lista svih priloženih fajlova koje je član prikačio uz poruke.
Prikaži statistiku
Prozor sa statistikom člana može biti pregledan selektovanjem Prikaži Statistiku iz članovog profila. Ovde možete pronaći neke interesantne informacije:
Total Time Spent Online - The forum keeps an approximation of the total amount of time each member has spent browsing the forum.
Total Posts - Excluding removed posts, the forum calculates the total number of posts made by each member.
Total Topics Started - Excluding removed topics, the forum calculates the total number of topics started by each member.
Number of Polls Created - Excluding removed polls, the forum calculates the total number of polls created by each member.
Number of Votes Cast - Excluding removed votes, the total number of votes cast by each member.
Posting Activity By Time - The forum calculates the percentage of posts made by a member in each hour of the day.
Most Popular Boards By Posts - The forum generates a ranking of the boards most posted in by the member, relative to the member's total post count.
Most Popular Boards By Activity - The forum generates a ranking of the boards most posted in by the member, relative to the board's total post count.
Prikaži dozvole
This page is shown only to members who are in membergroups that are allowed to manage permissions. The page shows all of the permissions the member (en) has, along with the boards that the member cannot see. By means of the drop-down list, it is possible to see which permissions a member has for a specific board (en).
Praćenje korisnika
Ove stranice su omogućene samo korisničkim grupama koje imaju dozvolu da Upravljaju korisnicima.
Activity - Here, you can view the Most recent IP address used by the member, along with the IPs used in messages, IPs used in error messages, and members possibly in the same range. Below that are any error messages caused by that member.
IP Address - Here, you can track the member's current IP address (or type in a different one) and do things such as view Whois records and view other members from the same IP/range. Also you can view messages posted at the IP/range entered and view errors caused by members from that IP/range as well.
Profile Edits - This section provides a list of certain actions undertaken on a user's profile, along with the date and the author of the change. To be able to see this information the Moderation, Administration and User Logs (en) option must be activated in the Core Features (en) section.
Izmeni profil
Podešavanja vezana za nalog
Korisnici mogu modifikovati baziča podešavanja. Ova podešavanja menjaju korisnički pristup nalogu, kao i opcije kada će i kako biti vidljivi ostalim članovima kada surfuju forumom. Sledeće opcije je moguće promeniti:
Name - While the username cannot usually be changed, a member may change their display name at any time. Other members browsing the forum will see display names instead of usernames in most places.
Preferred Language - If enabled by the administrator, a member can select their preferred language for the forum.
Email - The email address associated with a member's account may be changed, however a valid email address is required.
Allow users to email me - A member may choose to allow other members to contact them via email. The forum does not reveal the member's email address, but instead provides a contact form.
Show others my online status - If selected, a member will be displayed in the forum's Who's Online list.
Change Password - A member's password may be changed at any time.
Secret Question - The secret question is used in the event that a member forgets their password. Providing the correct answer aids the member in retrieving the password.
Current Password - The member's current password is required to make any changes to their account settings.
Profil na forumu
Kao dodatak klasičnim podešavanjima naloga, korisnici takođe imaju opciju popunjavanja dodatnih privatnijih informacija. Ni jedno od ovih polja nije neophodno za popunjavanje, i korisnici obično izaberu da neka polja ostave prazna:
Avatar - An avatar is a small picture or graphic associated with a member. Some forums may allow members to upload or link to external avatars, while others may only allow members to select from a provided set of images. Avatars appear below the Display name in posts.
Personal Text - The personal text is usually displayed directly underneath a member's avatar when they post.
Birthdate - When a member provides their full birthdate, their age is calculated and displayed on their profile. If the calendar feature is enabled, it is also placed on the calendar. Members can choose to omit the year of birth, in which case their birthday will still be displayed on the calendar, but their age will not be calculated.
Location - A member may choose to give a general idea of their location. It is not encouraged (or wise) for members to give their specific location in the form of an address or lat/lon coordinates.
Gender - If desired, a member may have their gender displayed. Selecting the blank line will prevent any gender from being displayed.
Messengers - Members may provide their various messenger usernames or numbers for clients such as ICQ, AIM, MSN, and YIM.
Custom Title - Forum administrators may allow a member to choose their own custom title. Custom titles are displayed below the member's display name when posting.
Signature - If provided, a member's signature is attached to the bottom of each of their posts.
Website - A member may advertise their own web site by providing its URL and a title.
Podešavanje izgleda
Podrazumevano, korisnici mogu promeniti dosta opcija koje utiču na izgled kako bi učinili vreme provedeno na forumu prijatnije. Administratori foruma mogu izabrati da ograniče ove opcija, ali ovde smo predstavili osnovne opcije.
SMF pruža mogućnost pravljenja i upotrebe različitih tema. Ukoliko je ponuđeno više instaliranih tema, korisnici mogu birati između tema i izabrati onu koja im najviše odgovara. Oni takođe mogu izabrati format vremena koji tema koristi za prikaz vremena i datuma. Dodatno, podešavanje razlike u vremenu dopušta forumu da prikazuje vreme i datume po korisnikovom lokalnom vremenu. Forum omogućava i automatsko detektovanje u slučaju da korisnik ne zna kolika je razlika u vremenu (offset).
Sledeće opcije mogu biti uključene ili isključene biranjem odgovarajućih kutija:
Show board descriptions inside boards. - The description displayed on the Board Index will also be displayed on that board's Message Index.
Show child boards on every page inside boards, not just the first. - Each page inside of a board will display a list of child boards if there are any. If disabled, the list will only be displayed on the first page.
| | |
| --- | --- |
| | Sledi tekst vezan za verziju 2.0 |
Use sidebar menus instead of dropdown menus when possible. - If side menus are preferred, they can be used instead of the dropdown menus.
Don't show users' avatars.- Some users find avatars annoying, so they may choose to hide them altogether.
Don't show users' signatures. - As is the case with avatars, signatures may also be hidden.
Return to topics after posting by default. - If enabled, a member will be returned to the end of the topic in which they have just posted. Otherwise, they will be returned to the message index for that particular board.
Don't warn on new replies made while posting. - When other users post while a member is preparing their post, a warning is generated. With this option enabled, those warnings will be hidden.
Hide messages posted by members on my ignore list. - Posts from users on a member's ignore list will not be displayed.
Show most recent posts at the top. - The display order of posts is switched to reverse chronological when this option is enabled.
Show WYSIWYG editor on post page by default. - The WYSIWYG editor removes the need to know BBCodes. It may be enabled by default when posting.
Članovi mogu da biraju koliko tema se prikazuje po stranici u početnoj stranici foruma i koliko poruka se prikazuje po stranici u temi. Takođe postoje opcije za korišćenje brzog odgovora i brzog uređivanja. Brz odgovor omogućava članovima da odgovore na temu zapravo bez korišćenja stranice za odgovor. Brzo uređivanje omogućava da brže izvršavaju uredničke akcije u više poruka ili tema ako imaju dozvole da to rade.
Verodostojnost
The forum allows a member to switch between using OpenID (if it has been enabled by the administrator) or a username and password combination to login. In order to switch, however, the account's current password is required.
Obaveštenja
SMF omogućava opciju obaveštavanja koja se pokazala korisna mnogim članovima. Ova opcija podrazumeva trenutne, dnevne ili nedeljne poruke obaveštenja o novim odgovorima, moderatorskim akcijama ili i jednom i drugom, vezanim za teme za koje je član zatražio obaveštenja.
Receive forum newsletters, announcements and important notifications by email. - Newsletters, announcements, and other notifications will be delivered to the member's email. Even if this option is disabled, forum administrators are able to override it in some instances.
Turn notification on when you post or reply to a topic. - When a member posts a new topic or replies to an existing topic, notification for that topic will be turned on automatically when this option is enabled.
When sending notification of a reply to a topic, send the post in the email (but please don't reply to these emails). - Email notifications will include the contents of the posts. These emails should not be responded to.
On this page it is also possible to define the frequency of notifications and the actions that will be notified. A member may also see lists of the topics and boards for which they have requested notification. If desired, they may turn off notifications for some or all of them.
Ignore Boards Options
If enabled by an administrator, users can choose to ignore any boards on the forum. When a board is ignored, it is still shown on the Board Index, but the New Posts icon will not show up for this board. In addition, new posts will not be shown for an ignored board when using the link Show unread posts since last visit. Neither will they be shown when using the link Unread posts next to the category names in the Board Index. However, when using the link Show new replies to your posts, new posts in an ignored board will still be shown. Also, when entering an ignored board via the Board Index, topics that have new posts will still be indicated with an icon.
Privatne Poruke
Privatne poruke omogućavaju privatnu komunikaciju između dva člana. SMF pruža niz opcija koje omogućavaju članu da kontroliše koliko privatnih poruka će biti prikazano, kome je dozvoljeno da mu ih šalje, i kako neke od tih odlika deluju.
Prve dve opcije upućuju kako su privatne poruke prikazane. Ako je član izabrao Sve odjednom, spisak poruka se prikazuje na vrhu sa svim porukama prikazanim ispod liste. Odabir jedna po jedna rezultira da se samo jedna poruku na vrhu sa listom poruka ispod nje. Kao razgovor oponašanjem funkcionalnosti foruma, pravi temu kao listu odgovora. Veoma je preporučljivo da član sačuva svoje poruke u sandučetu Poslato ukoliko izabere prikaz poruka kao da se radi o razgovoru. Druga opcija kontroliše redosled po kome se poruke prikazuju.
Članovi mogu kontrolisati kome je dozvoljeno da im šalje privatne poruke. To može da bude ograničeno samo na članove koji nisu na listi ignorisanih, prijatelje i administratore, ili samo administratore.
Obaveštavanje može biti omogućeno kako bi primali imejlove kada su privatne poruke primljene na forumu. Pored toga, iskačuća poruka može takođe biti omogućena da obavesti člana o novim porukama.
Zadnje dve dostupne opcije su sledeće:
Podrazumevano sačuvaj kopiju svake privatne poruke u sandučetu Poslato - Kada šaljete poruku, njena kopija je automatski sačuvana u sandučetu Poslato člana. Ova opcija treba da bude omogućena kada pregledavate poruke kao da se radi o razgovoru.
Ukloni natpis Primljeno kada primenim drugi natpis - Kada je novi natpis primenjen za poruku, natpis Primljeno je uklonjen.
Prijatelji/Odbačeni Spisak
Neminovno, postoje vremena kada će članovi postići zajedništvo i vremena sukoba ličnosti. SMF predviđa oba načina ponašanja. Lista prijatelja omogućava članovima da brinu o onima s kojima uživaju, dok lista ignorisanih sakriva korisnike koje ne žele da vide.
Uredi prijatelje - Članovi mogu dodavati ili brisati ostale članove sa svoje liste prijatelja.
Uredi Spisak Ignorisanja - Članovi mogu dodavati ili brisati ostale članove sa svoje liste ignorisanih.
Članstvo Grupe

Neki forumi mogu omogućiti grupe kojima član može pristupiti bez odobrenja, kao i grupe za koje član mora biti odobren pre nego što postane član date grupe.
Akcije
Pošalji privatnu poruku
Kliknite ovaj link za slanje Privatne poruke članu čiji profil gledate. Dozvola za slanje privatne poruke je potrebna kako bi videli ovaj link.
Issue a Warning
On this page a moderator can issue a Warning (en) to other users based on their behavior or other reasons determined by the forum staff.
Plaćene Pretplate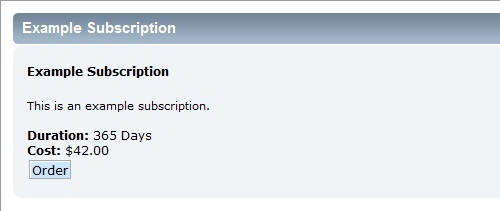 Neki forum administratori mogu izabrati da koriste svojstvo SMF plaćenih pretplata. Ovo svojstvo olakšava članovima odgovarajuće, plaćanje i praćenje svoje plaćene usluge. Mogu se pretplatiti na jednu od ovih usluga jednostavnim odabirom odgovarajućeg dugmeta za željenu pretplatu.

Forum takođe izlistava postojeće pretplate članova ako ih imaju.
Zabrani Ovog Korisnika
Na ovoj stranici administratori mogu zabraniti člana čiji profil gledaju sa foruma. Samo članovi koji imaju dozvolu Upravljaj listom zabrana mogu videti ovaj link i izvršiti akciju. Kao i sa brisanjem naloga, koristite ovu opciju sa pažnjom. Upamtite, ovaj link će vas uputiti na Ban_list (en) sekciju admin panela sa nekim već popunjenim detaljima o članu koga želite zabraniti.
Obriši Ovaj Nalog

Ako član odluči da više ne želi da bude deo foruma, on može izbrisati svoj račun. Trenutna lozinka člana je neophodna za obavljanje tog posla. Takođe, neki forum administratori mogu ograničiti mogućnost članovima da brišu svoje račune.