Prijavljivanje
From Online Manual
Bilo da ste novoregistrovani ili ste se samo odjavili prilikom prethodne posete, možete birati između prozora za registraciju i polja za brzo prijavljivanje.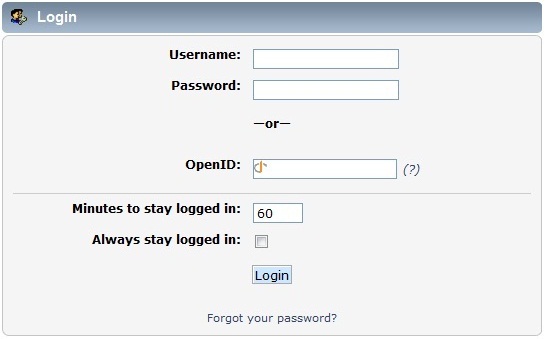 Prozor za prijavljivanje
Na ovaj prozor (pristupa mu se kroz Prijavljivanje u glavnom meniju) naići ćete ne samo posle registracije, već i kada pristupite forumima i potforumima rezervisanim samo za članove.
Korisničko ime - Korisničko ime člana.
Šifra - Šifra člana.
OpenID - OpenID člana.
Prijavi me za sledećih minuta - Broj minuta pre nego što kolačić u vašem pretraživači istekne.
Prijavi me za stalno - Kolačić u pretraživaču neće isteći.
When using a shared computer, a member probably should not stay logged in for a long time or check the "Always stay logged in" option, unless they remember to log out when finished. Leaving an account logged in on a shared computer makes it vulnerable to use by someone other than the member.

Brzo prijavljivanje
Iako se mesto gde se nalazi polje za brzo prijavljivanje razlikuje od foruma do foruma, trebalo bi da je prisutno na svim njihovim stranama. U predefinisanoj temi SMF-a nalazi se u sekciji koja se može sakriti, pri vrhu strane, ali može biti i pri dnu. Ako ne vidite ovo polje, možda je sekcija sakrivena (kliknite na ikonicu "+" da je otkrijete) ili brzo prijavljivanje uopšte nije dozvoljeno, u tom slučaju možete se prijaviti preko prozora za prijavljivanje u glavnom meniju.
Kada koristite polje za brzo prijavljivanje upišite svoje korisničko ime, lozinku, izaberite dužinu sesije iz padajućeg menija i kliknite na Prijavljivanje (Login). Molimo, imajte na umu da Zauvek, kao i Prijavi me za stalno, jednostavno znači da će vas računar zapamtiti kao prijavljenog sve dok se ne odjavite, a ne da morate biti stalno na vezi!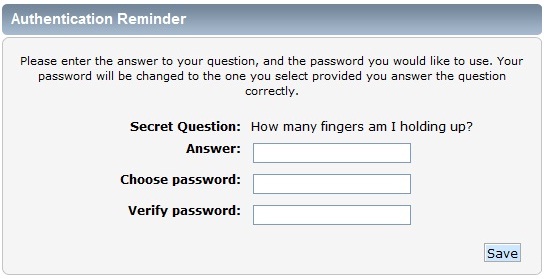 Potsetnik lozinke
Ako pokušavate da se prijavite ali ste zaboravili ili izgubili lozinku, možete je dobiti ili zameniti drugom pomoću alatke "zaboravljena lozinka" kojoj pristupate linkom Zaboravili ste lozinku? u prijavljivanje -prozoru.
Ako član nije podesio tajno pitanje, imejl koji sadrži link za obnavljanje lozinke se automatski šalje na imejl adresu člana. Izbor linka omogućava članu da izaberu novu lozinku. Ako je tajno pitanje podešeno, data je mogućnost prijema imejla ili odgovaranja na njihovo pitanje.Članovi mogu kreirati ili promeniti svoje tajno pitanje u Profil > Izmeni Profil > Podešavanja vezana za nalog
Posle odgovaranja na tajno pitanje, ukoliko je odgovor tačan možete odmah izabrati novu šifru. Šifra se menja odmah pa se odmah i možete prijaviti na forum.
Odjavljivanje
Kada završite sa pregledanjem foruma, možda ćete poželeti da se odjavite. Ako vaš računar koriste i drugi može biti nezgodno ostaviti ga prijavljenim. Da se odjavite izaberite opciju Odjavi se u glavnom meniju i forum bi trebalo da vas odjavi, prebaci u goste, ukloni vaše korisničko ime iz liste prisutnih korisnika, i spreči druge da ga koriste.