Logging In/pt
From Online Manual

Você precisa entrar após o registro e depois de ser desconectado de uma visita anterior. Você tem a tela de escolha de login normal, e as opções de entrada rápida.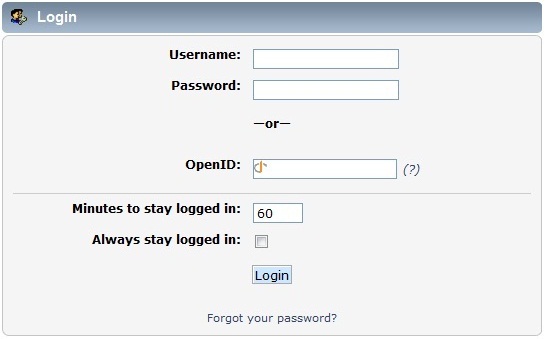 A tela de login
Esta é a tela que você vê quando você usa a opção "Login" do menu principal. É também a primeira coisa que você vai ver em qualquer fórum 'apenas membros'.
Username - The member's username.
Password - The member's password.
OpenID - The member's OpenID. This is only displayed if it has been enabled by the forum administrator.
Minutes to stay logged in - The number of minutes the browser cookie will last before expiring.
Always stay logged in - Prevents the browser cookie from expiring.
When using a shared computer, a member probably should not stay logged in for a long time or check the "Always stay logged in" option, unless they remember to log out when finished. Leaving an account logged in on a shared computer makes it vulnerable to use by someone other than the member.

O login rápido
Um fórum SMF pode ser configurado para permitir o login em qualquer página. Isso é chamado de login rápido. No tema padrão, ele está localizado no topo, canto esquerdo de cada página. Outros temas podem colocá-lo em locais diferentes. Se o login rápida está desativado ou não pode ser visto, a tela de login ainda pode ser acessada a partir do menu principal.
A opção duração da sessão no menu drop-down corresponde aos Minutos para permanecer logado na tela de login. Da mesma forma, a seleção Para sempre neste menu drop-down é o mesmo que a verificação da opção Permanecer sempre logado na tela de login.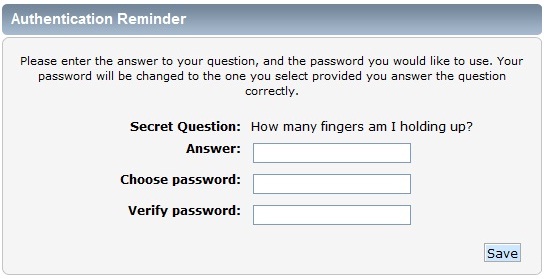 Lembrete de senha
Se uma senha é esquecida ou perdida, pode-se redefinir, selecionando o Esqueceu sua senha? opção na tela de login. O nome de usuário ou endereço de e-mail para a conta é solicitado para iniciar o processo de redefinição de senha.
If a member has not set a secret question, an email containing a password reset link is automatically sent to the member's email address. Clicking on the link allows the member to choose a new password. If a secret question has been set, they will be given the option of receiving the email or answering their question. Members may create or change their secret question in Profile > Modify Account > Account Settings
Depois de responder a sua pergunta secreta corretamente, o membro pode escolher uma nova senha. A senha tem efeito e pode ser usado para fazer login imediatamente.
Sair
Quando você terminar de navegar pelo fórum, você pode decidir sair. Talvez você compartilha um computador com outra pessoa, em que deixar a sua sessão não seria uma boa idéia. Então, escolha a opção Sair no menu principal e o fórum deve efetuar, transformando-o em um convidado instantaneamente, eliminando o seu nome da lista de usuários online e salvaguardar a sua identidade no Fórum até que você escolha fazer o login novamente.