Logging In
From Online Manual
This article needs some work for the following reason: translation taken from history, please check it

Other potentially useful pieces of translation can be found here


This template may be removed when cleanup is complete.
Una vez terminado el proceso de registro, podrás ingresar a el foro por primera vez. Después de eso, podrás elegir si deseas permanecer conectado siempre o por lapsos determinados de tiempo.
Conectarse
Deberás de conectarte después de haberte registrado o después de haberte desconectado. Puedes elegir entre la opción normal de registro o la versión rápida.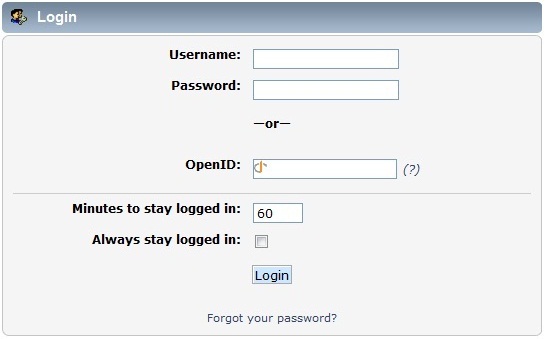 La pantalla de conexión
Esta no es la única pantalla de registro que puedes usar (accesada desde la opción "Ingresar" de el menú principal) , pero si será la primera y unica página que verás si un foro sólo es accesible para usuarios registrados.
Username - The member's username
Password - The member's password
OpenID - The member's OpenID
Minutes to stay logged in - The number of minutes the browser cookie will last before expiring
Always stay logged in - Keeps the browser cookie from expiring
When using a shared computer, a member probably should not stay logged in for a long time or check the Always stay logged in option, unless they remember to log out when finished. Leaving an account logged in on a shared computer makes it vulnerable to use by someone other than the member.


The quick login
An SMF forum may be configured to allow login from any page. This is called quick login. In the default theme it is located in the top, left corner of each page. Other themes may place it in different locations. If quick login is disabled or cannot be seen, the login screen can stil be accessed from the main menu.
The session length drop-down menu corresponds to the Minutes to stay logged in option from the login screen. Similarly, selecting Forever in this drop-down menu is the same as checking the Always stay logged in option on the login screen.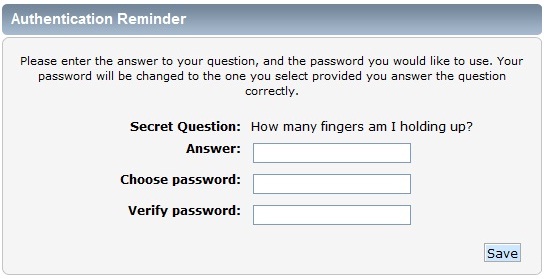 Password reminder
If a password is forgotten or lost, it can be reset by selecting the Forgot your password? option from the login screen. The username or email address for the account is requested to begin the password reset process.
If the member has not set a secret question, an email containing a password reset link is automatically sent to the member's email address. Selecting the link allows the member to choose a new password. If a secret question has been set, they will be given the option of receiving the email or answering their question.Members may create or change their secret question in Profile > Modify Account > Account Settings (en)
After answering their secret question correctly, a member may choose a new password. The password takes effect and can be used to login immediately.

Logging out
When you have finished browsing the forum, you may decide to logout. Perhaps you share a workstation with someone else, in which case leaving yourself logged in would not be a good idea. So select the Logout option from the Main Menu and the Forum should log you out, turning you into an instant guest, clearing your name from the list of users online and safeguarding your Forum identity until you choose to login again.