Logging In/de
From Online Manual

Nach der Registrierung oder nachdem Sie von einem früheren Besuch abgemeldet wuden, müssen Sie sich neu anmelden. Sie haben die Auswahl die schnelle oder die ausführliche Anmelde-Option zu verwenden.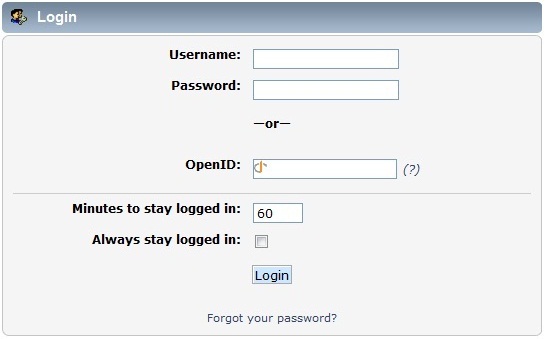 Der Anmeldebildschirm
Dies ist der Bildschirm den Sie sehen wenn Sie die Anmelde-Option des Hauptmenüs nutzen. Dies ist das Erste was Sie in Foren mit Zugriff nur für Mitglieder sehen werden.
Username - The member's username.
Password - The member's password.
OpenID - The member's OpenID. This is only displayed if it has been enabled by the forum administrator.
Minutes to stay logged in - The number of minutes the browser cookie will last before expiring.
Always stay logged in - Prevents the browser cookie from expiring.
When using a shared computer, a member probably should not stay logged in for a long time or check the "Always stay logged in" option, unless they remember to log out when finished. Leaving an account logged in on a shared computer makes it vulnerable to use by someone other than the member.

Die Schnellanmeldung
Ein SMF Forum kann so konfiguriert sein, dass Sie sich von jeder Seite aus anmelden können. Dies wird die "Schnellanmeldung" genannt. Im Standartthema ist diese oben links auf der Seite zu sehen. Bei anderen Themen kann sich die Anmeldung woanders befinden. Ist die Schnellanmeldung nicht aktiviert kann die Anmeldung über das Hauptmenü erreicht werden.
Das Sitzungslänge Dropdown-Menü entspricht der "Sitzungslänge in Minuten" aus dem Anmeldebildschirm. Die Auswahl von "Immer" entspricht der Auswahl von "Immer eingeloggt bleiben" im Anmeldebildschirm.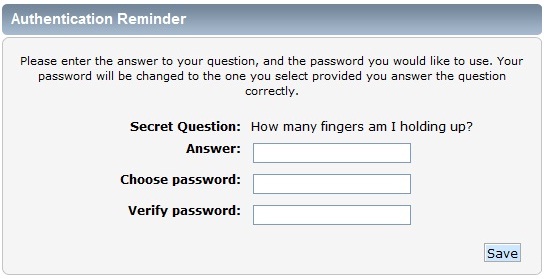 Authentifizierungserinnerung
Wenn Sie Ihre Login Daten vergessen haben, können Sie diese über "Passwort vergessen?" im "Einloggen"-Bildschirm anfordern. Der Benutzername oder die Email-Adresse des Benutzers wird zum Einleiten des "Zurücksetzen"-Vorgangs benötigt.
If a member has not set a secret question, an email containing a password reset link is automatically sent to the member's email address. Clicking on the link allows the member to choose a new password. If a secret question has been set, they will be given the option of receiving the email or answering their question. Members may create or change their secret question in Profile > Modify Account > Account Settings
Wurde die Frage korrekt beantwortet, kann der Benutzer ein neues Passwort setzen. Das Passwort wird sofort aktiv und kann augenblicklich für die Anmeldung genutzt werden.
Abmelden
Wenn Sie fertig mit dem Durchstöbern des Forums sind möchten sie sich evt. abmelden. Teilen Sie einen Rechner mit jemand anderem, könnte es evtl. keine gute Idee sein, angemeldet zu bleiben. Wählen Sie die Ausloggen (Abmelden)-Option um Hauptmenü und das Forum sollte Sie abmelden und als Gast begrüßen. Ihr Name wird aus der Liste der aktiven Nutzer entfernt. Ihre Identität ist bis zur nächsten Anmeldung gesichert.